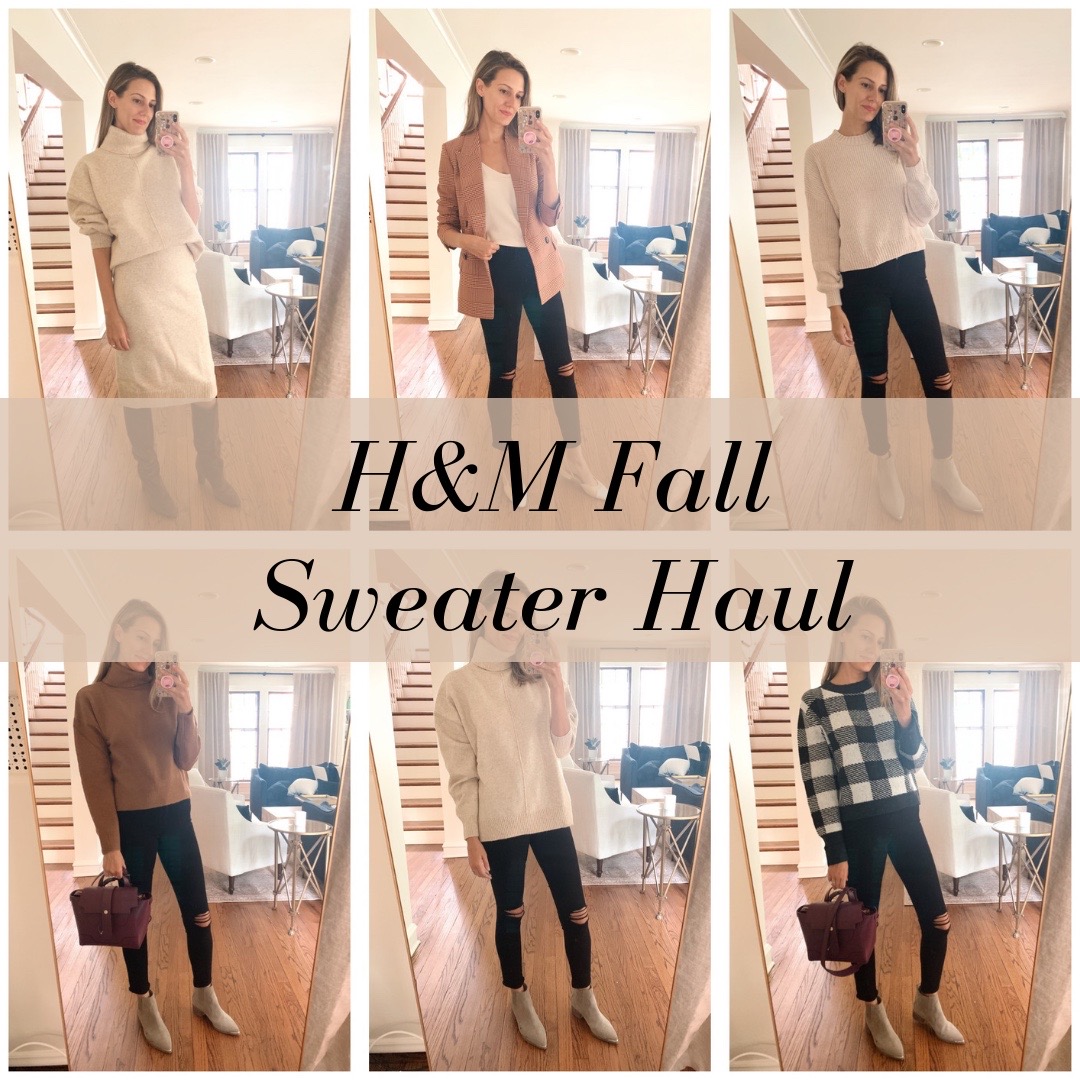 Last fall, I shared a handful of inexpensive sweaters from H&M and you guys LOVED IT. I think it was my most popular post for the fall! I mean, I totally get it. H&M sweaters look luxe, have a cozy hand, and won't break the bank. Some of my favorite sweaters in my closet are H&M and I find myself reaching for them just as much as my much more expensive Vince sweaters. I think why they're so good is because the fit is always on point; they're perfectly oversized or just the right crop and always come in a slew of neutrals. You can't resist an H&M sweater–or, at least, I can't. And fine, I also ordered one blazer.
Oversized knit turtleneck sweater, $34 (wearing S) – This sweater is the bees knees–so oversized (really, it runs big) but it'll look so cute with leather leggings and will still work when my stomach gets huge.
Knit skirt, $29 (wearing S) – LOVE a co-ord set…how chic is this with the oversized sweater?!
Checked blazer, $49 (wearing 2) – A great buy for under $50; not as great at the one/third tweed blazer that's dropping (hint) but a solid, well-constructed blazer for certain!
Knit turtleneck sweater, $29 (wearing S) – I love this spicy, reddish brown. It's a nice, slightly cropped style and the hand is soft.
Chenille sweater, $29 (wearing S) – I'm not a huge chenille fan; I can't decide if it's like a super absorbent towel or a chic fabric. The cut of this sweater is great and it looks good on but I'm not sold on chenille.
Jacquard-knit sweater, $29 (wearing S) – Wooo boy, this sweater is a nice weight (nothing cheap about it) and how great is that buffalo check?