Beautycounter Flawless in Five Review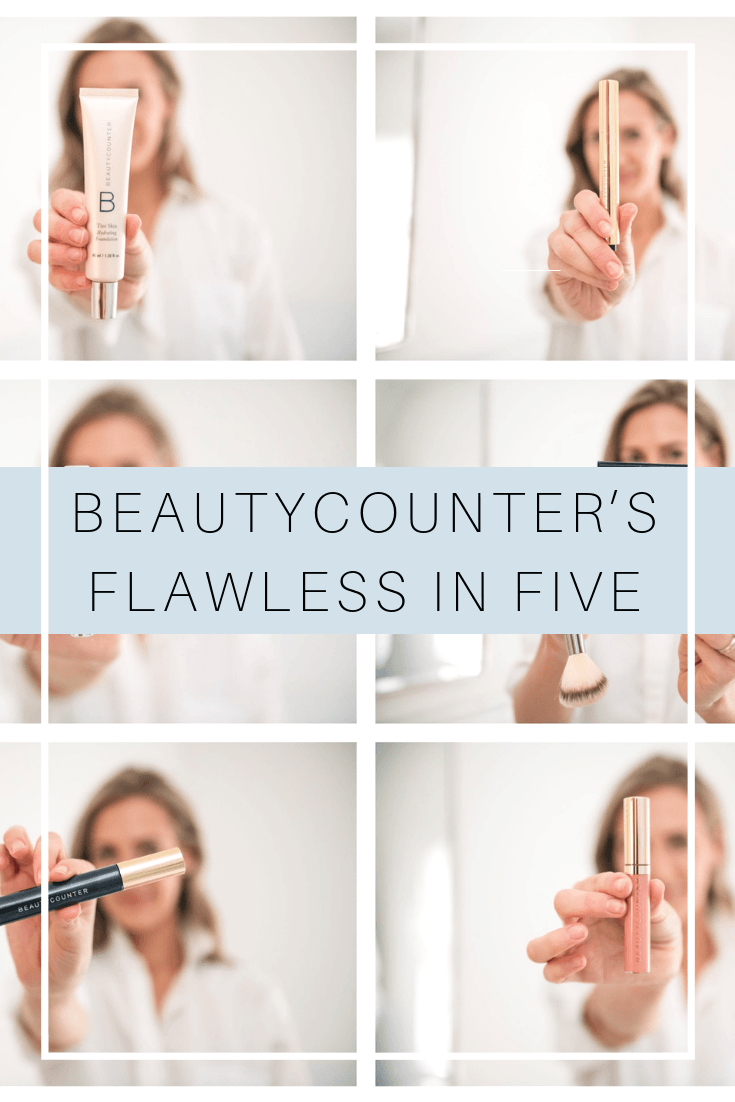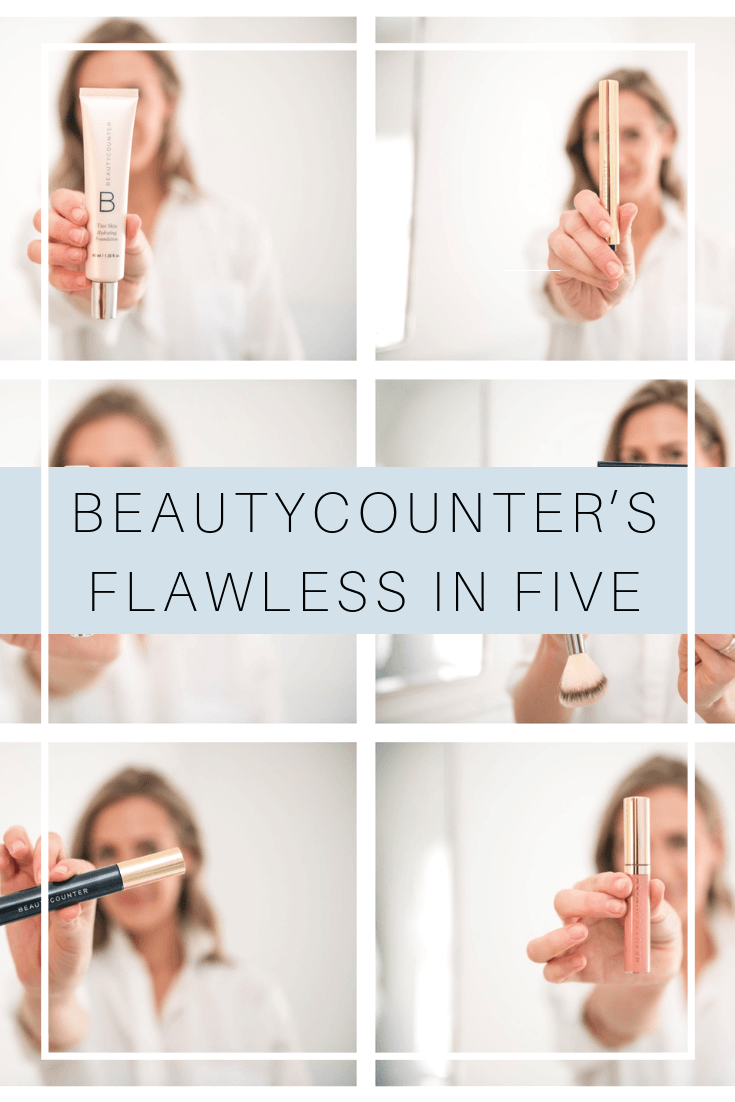 I've talked about Beautycounter before – remember?  I have really enjoyed using their skincare products over the past couple months–they live up to the hype!  I am not a Beautycounter consultant (and you don't need to buy solely through a consultant–they have a website!)–I'm just a fan of the brand, products, and their mission.  I don't exclusively use them as I am constantly trying new brands and researching new skin care but after since using Beautycounter since December, I know that their skincare will have a permanent place in my medicine cabinet (especially the cleansing balm and Vitamin C oil).
]Did you know they have makeup, too?  As you know, Beautycounter is one of the early pioneers in the clean beauty industry and while I was an early subscriber to this notion with my skin care, I honestly sort of forgot about applying this to my makeup.  Maybe it's because when I think of skincare, you think of serums and lotions absorbing into your skin–you want cleaner, good for you ingredients!  Well, guess what–makeup is absorbed into your skin, too.  Yes, you wash it off every night (and I personally double cleanse to get it off nice and good, even though I don't wear a ton of makeup most days), but it's still on your skin, soaking into your pores. So here, I am, trying out the Beautycounter Flawless in Five–this makeup holds up to my tried and true makeup brands and I'm going to show you in photos!  From bare-faced to fresh-faced in five minutes and I wore this makeup all day and felt great. Here's what I'm wearing (and yes, I'm progressively wearing only these products in the photos!):
Tint Skin Hydrating Foundation (Sand) – a little goes a long way! Really events out your skin and provides coverage without looking cake-y.  I typically don't like foundation but this is nothing like the drying out foundations I'm used to–it has sheer coverage.
Touchup Concealer Pen (Sand) – Again, it's sheer coverage and not cakey!  Goes on so easy and is easy to re-apply thanks to the pen.
Brilliant Brow Gel (Medium) – Here's the thing with my brows–they've been this shape and thickness my whole life.  I will never have thick, bushy brows, but they're always been darker than my lighter hair.  I did slightly over pluck them in high school (ugh) but typically a little filling in is all I need.  This brow gel is AMAZING; it gives my brows just a little more oomph and depth and this is my SECOND tube (I bought it when it was released a few months back because I saw people apply it on Instagram).  It's great stuff; I wear it every single day.
Volumizing Mascara – Great, thick brush and the mascara doesn't flake or clump!
Satin Powder Blush (Melon) – I love a pinky blush on my slightly olive skin tone (I tan very easily and don't have many moles if that helps you with colors).  A pinky-coral blush is actually so subtle and gives your cheeks a little color; you don't need much else on your face!
Lip Gloss (Bare Shimmer) – I wear a lot of pinks, reds, and corals but I don't have any nudes that I love so I chose this color.  I like wearing gloss again after swearing off of it (due to overdosing on MAC lipglass in college) – it feels fresh, easy, and feminine.
PS. This Wednesday, May 22 – Tuesday, May 28 get a FREE Countersun 3 oz. Mist AND Countersun 1oz. Lotion when you spend $125+ (USD) on Beautycounter.  Just in time for the summer!
*Thanks to Beautycounter for sponsoring this post! I am not a Beautycounter consultant and I don't earn commission on this post.