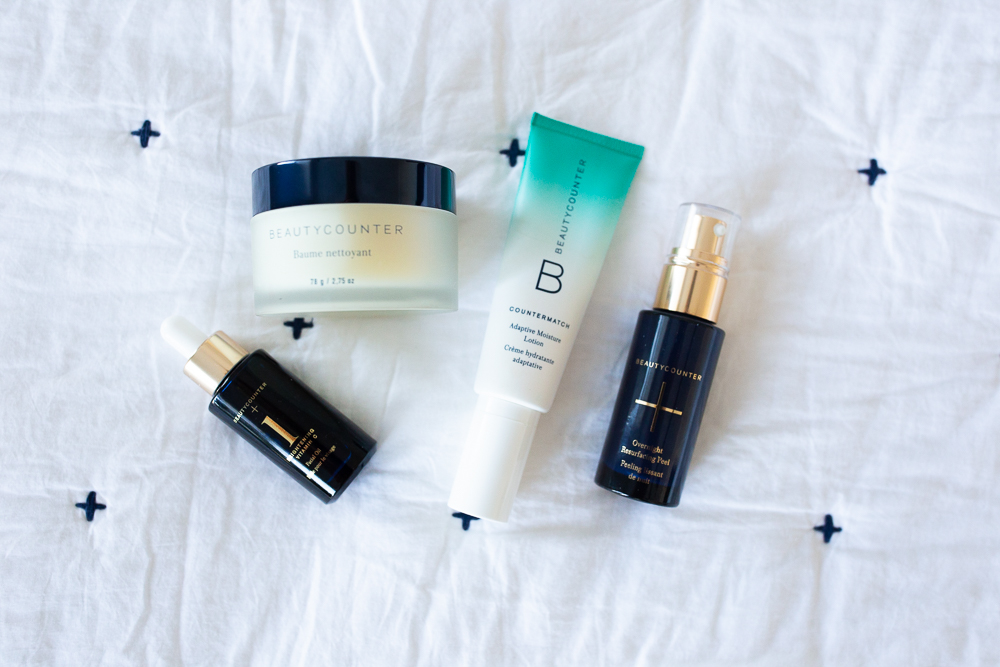 For me, the clean beauty movement started with deodorant.  My mom always avoided antiperspirants and as I did my own research, I realized how harmful it was to let your skin absorb these toxic ingredients.  As I became more and more interested in skincare (that wasn't until my late 20s), I was drawn towards effective products that were safer, as well. My skincare routine is constantly evolving and I will happily keep trying new products for great results (and as long as I'm scared of getting Botox).  I had, of course, heard of Beautycounter, but had yet to try it. Well, the new year is for trying new things, right?! Detoxing and simplifying after the holidays is always cathartic–and you bet that applies to skincare products. When they approached me to work together, I was really excited because I could finally try and products and see what all the fuss was about–and I must say, I've been pleasantly surprised with the products.  They're simple, safer, no-frills, and my skin is looking hydrated and refreshed (during Chicago winter, that's a feat, believe me). Here's what I've been incorporating into my nighttime (but also daytime in some cases) routine:
Cleansing Balm – WOW.  It quite literally MELTS into my skin and removes stubborn makeup (you know how some cleansing balms make your mascara run all down your face? This one doesn't – the makeup just seems to disappear and it's incredible).  My skin feels super clean afterwards, but still hydrated.
Brightening Facial Oil – Oils always scared me because I have oily skin – I thought, no way this could work!  But it makes me all glowy looking and keeps my skin hydrated, which in turn, keeps the oilies at bay.  (PS I've also been using this in the morning–and I don't look greasy!)
Overnight Resurfacing Peel – An awesome nighttime treatment – smooths and exfoliates and I wake up with less dull skin (it tingles, but doesn't hurt or give me any bad reactions!).
Countermatch Adaptive Moisture Lotion – Sometimes I can be 'meh' about moisturizers.  My biggest issue with them is that they're too heavy and thick; my combination skin can't take that so I love this lightweight, yet effective, moisturizer.  Doesn't hurt that it's silky smooth, too.
So what's the overall consensus?  Did these Beautycounter favorites live up to the hype?  Yep, these clean beauty best sellers are worthy of a place in my medicine cabinet and I'm eager to try more.  It's also worth noting that while I've been immersed in the clean beauty market for awhile, my makeup hasn't quite made the "clean" switch yet so perhaps I'll dabble in that.  ALSO, I learned in my research that there's an all new men's line called Counterman; I may have to snag the preview set for Eric seeing as he always borrows my stuff…
PS. About 1/3 of you who answered my poll on IG stories said you had used Beautycounter; tell me your favorite products in the comments below!  I'm itching to try more.
*Thanks to Beautycounter for partnering with this post!  All opinions are my own.