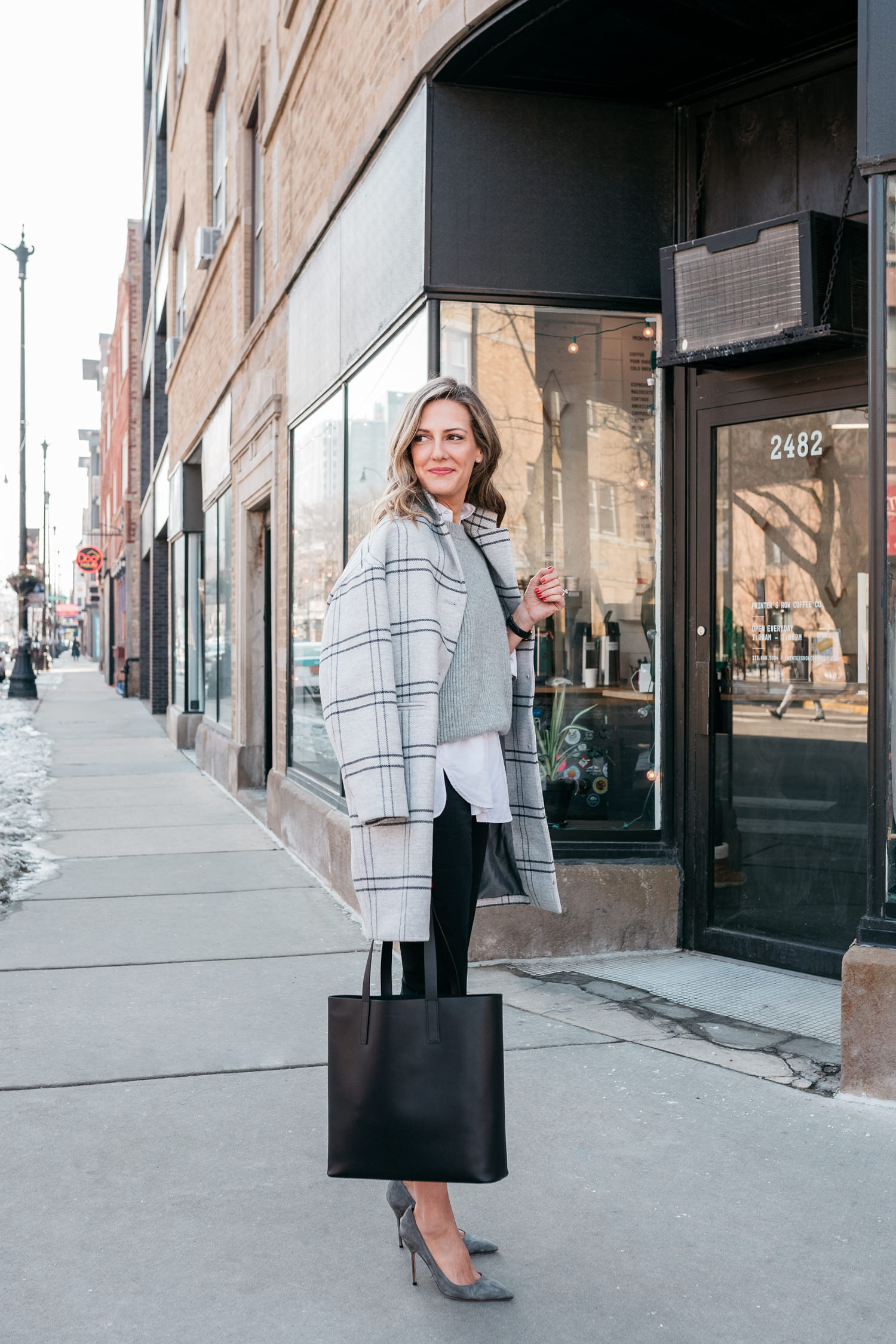 As you probably have noticed, I wear a lot of Everlane around here (see my last winter post with them here).  They're actually one of my longer term partners (I have relationships with a few) and it's an easy relationship because I've always had Everlane in my closet since their inception.  What is it about them?  Their quality is fantastic, they have a wide breadth of sizes, and their core offering is made up of wardrobe classics that you can wear over and over again.  Does that mean every item they carry works for me?  Not at all (for example: their kick flare just doesn't sit on me right no matter how much I want them to work) but the majority of the items I've tried have been a big hit and I find myself reaching for them constantly.  You can dress up the classic pieces for an elevated look or dress them down for every day.
I receive a lot of questions about work wear.  I worked in corporate America where my business casual was on the formal side of the fence and sometimes I needed to wear a suit.  I switched industries and went to a fashion start-up where the dress code took a complete 180–ANYTHING went, but I always liked to put my stylish foot forward.  I have a feeling a lot of people, maybe you included, have a dress code thats somewhere in the middle–it's not formal but you also don't want to be a schlub.  I'm a firm believer that you should dress for the job you want so stepping it up at work and staying tailored and professional is never a bad idea–that doesn't mean you can't get creative.
Let Everlane be your work wife (or husband) of your closet–the one you can lean on when you don't know what else to wear.  The white poplin shirt that's slightly oversized and you can look stylish in when all your other clothes are boring you to death.  The trusty work pants that go with virtually everything in your closet and got your bat when you have to be comfortable during a presentation (oh, and they're $50 so you can buy them AND afford go out for happy hour with your actual work wife to celebrate nailing that presentation).
Best Everlane Work Staples
Editor heel – some of you may not be on the kitten heel trend but they're SO chic and also walkable.
Short-sleeve notch collar – the neckline is so expensive-looking (Equipment, hello!) and short-sleeve blouses are underrated for the office (for layering purposes)..and it's a silk blouse for under $100.
Oversized blazer – Looks just as good with jeans as it does with work slacks (I have it in black!).
Easy pant – A dressy jogger for the office!  Pair it with turtlenecks or tees and heels.
Wrap dress – This little number will take you from office to oysters in no time.
*Thank you to Everlane for sponsoring this post!