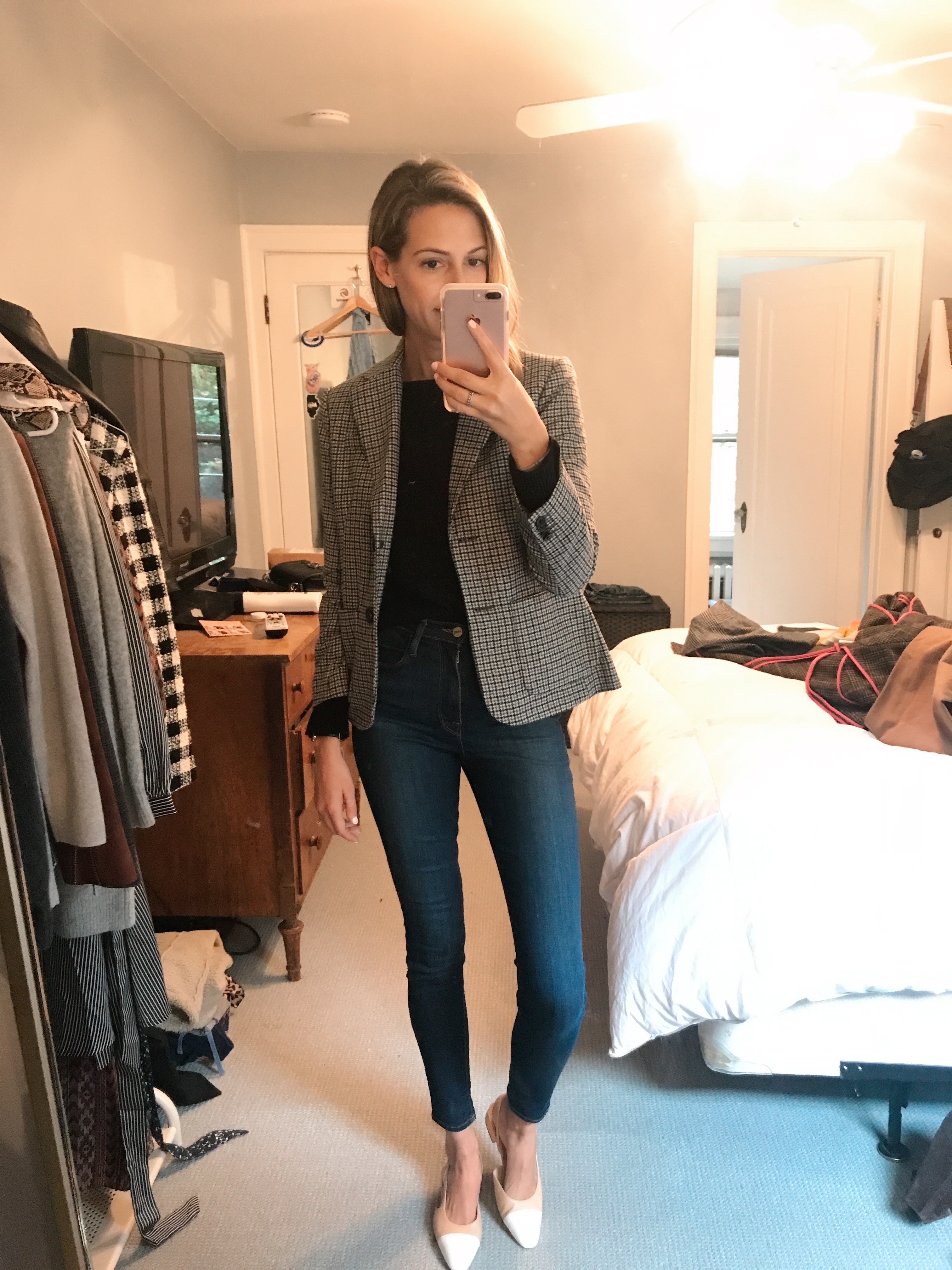 I loved all the feedback I received from the H&M sweater try-on (also, I ended up keeping all the sweaters except the color blocked one–my sister bought that one from me).  I received a few requests for an Everlane try-on because 1.) I wear it a lot and 2.) those who haven't worn it wanted to know how it fits and if the quality is up to snuff.  I'm a huge fan of it and have been for several years.  (Also be sure to check out their new ReNew initiative – I love that puffer!)
Blazer – wearing a 2, it's a traditional fitted blazer.
ReNew fleece sweatshirt (beige) – wearing a small (and this photo was taken AFTER I washed/dried it–no shrinkage!)
Ribbed cashmere sweater (grey) – wearing a small and I also received questions about how it pills.  I have some Everlane cashmere from last year and it holds up well!  It does pill a bit, but nothing my sweater shaver can't handle.  It's very similar to my Vince pieces.
Hi-rise stretch denim (faded black) – TTS – wearing 26; received a question about stretching out and they don't seem to stretch out for me (maybe it's the high-rise?). I do feel like most of my stretchy jeans stretch out a bit after a few wears, but I also have no butt, so that probably has something to do with it (working on it!).
Classic trench – wearing a small (see my review here…I've had this for a long time)
Squared chelsea boots – TTS..the squared off toe is a nice departure from my pointy boots (and comfy – the first time I wore them I walked two miles in the city!)
Camel cashmere turtleneck – wearing a small, nice and fitted (but not too tight)
Wool mini skirt – wearing a 2..can't wait to wear it with tights!
Wide leg crop pants – my favorite pants this past year–I have them in two colors and whenever I wear them, someone compliments them.  TTS (I wear a 2) and I wear them with flats, boots, sandals, you name it!
Please note that I own all these pieces!  Some are old, some are new, but they're all in my closet and not going back.