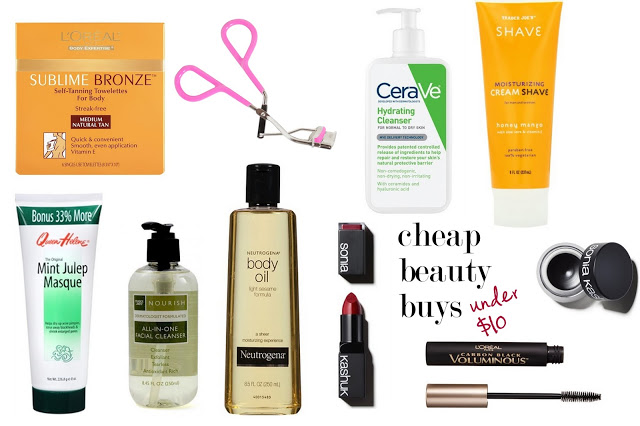 Wow, it's been awhile since I've done one of these and I forgot how fun it is to share tried and true products. Disclaimer: I am NOT a beauty connoisseur; I stick to what I like and while I enjoy the occasional splurge, sometimes I can't stomach spending a lot on most beauty products. Here are some tried and true products that I stand behind. I'd love to hear about some of your cheap favorites, too!
L'oreal tan towels – I tried the original 'tan towels' and liked them fine but once a friend recommended the $8 L'oreal version, I never went back. They're a 1/3 of the price and work exactly the same.
Tweezerman eyelash curler – Ok, fine, you caught me. This is the one item on the list that's not under $10–I found mine for $12 when I left my 'better' (or $25) eyelash curler at a hotel one weekend. This works just as well.
CeraVe facial cleanser – I keep this in the shower and use it with my Clarisonic (which is NOT under $10, but worth the investment for exfoliation).
TJ shaving cream – I bought this shaving cream on a whim at Trader Joe's one afternoon and I will never buy another again. It's thick, not too fragrant and makes my legs silky smooth. Plus, it doesn't irritate the excema spot on my leg – so win/win!
Sonia Kashuk gel eye liner – Love my girl, Sonia. I can't resist her stuff when I get lost in the abyss that is Target. I picked some of this up after my MAC eyeliner gel was out and eventually was like, "MAC who?!"
L'oreal voluminous mascara – I've tried expensive mascaras here and there but I always go back to this one. If you like to layer on the coats – this one is for you. It makes my lashes look fluffy and full.
Sonia Kashuk 'classic red' lipstick – I don't know why, but I have a really hard time splurging on lipstick. Maybe because it never lasts all day on me and I tend to lose them in my bags. But this is a great red–not too orangey and not too pink–and under $10.
Neutrogena body oil – I've been using this forever; I started when oil was still a bad word–now we wear them our faces. I love the light scent and how it looks on your legs when you have a summer glow.
TJ face wash
– For awhile I used a cleanser that a facialist recommended me; the one caveat was that it was $30. She did say that for my skin type (normal to oily), I should be using something that doesn't make my face feel too tight afterwards and this one from Trader Joe's is perfect. No cleanser will ever make me oil-free, but perhaps that will keep the wrinkles at bay!
Queen Helene clay face mask – Long live the queen! This was also a recommendation from a facialist and whoa–it's good. If your skin is in the least bit greasy, try this out–it truly draws the dirt out of your pores. I used this religiously before my wedding when I was trying to attain picture-perfect skin–it worked.
Ok, spill it. Tell me your cheap beauty favorites!