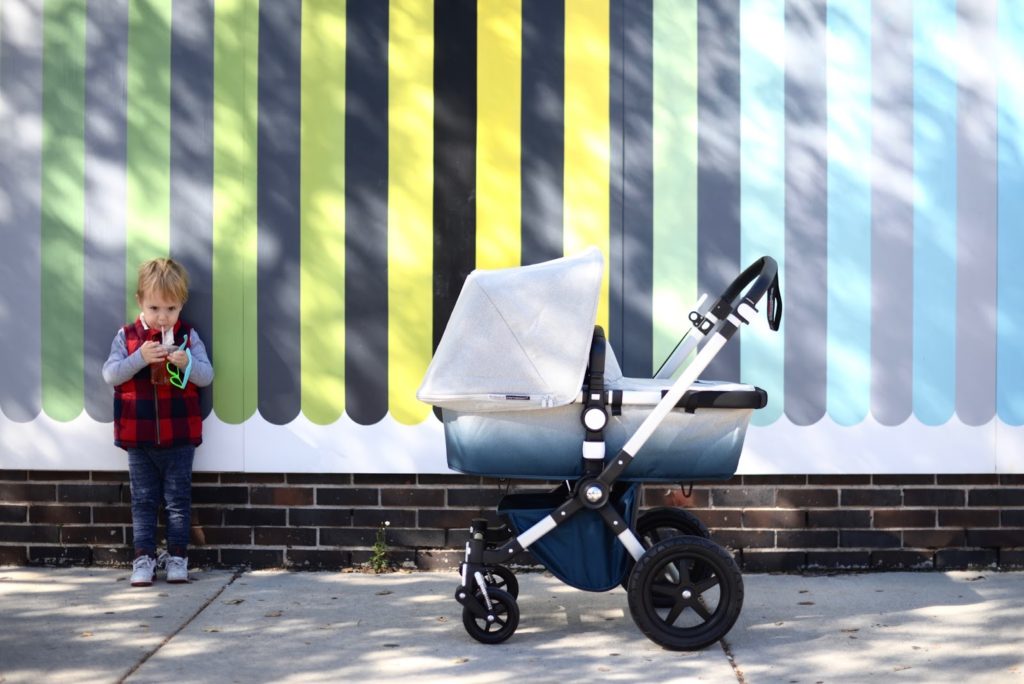 Holy
moly. We all know that having a baby really turns your life upside down.
However, when you already have a toddler at home, adding a newborn to the
mix REALLY throws a fast one at you. I was a bit cocky before I had
Teddy. We had a great routine with Harry; although he's a full-blown
toddler now (complete with full-on toddler sassiness), at least Eric and I
could tag team when needed. I think there's a life lesson to be learned
here, right? When you think you've actually got a handle on something,
life decides to say, "lol, no." Anyway, Harry is quite fond of
his brother and is extremely cute with him (seriously, it's adorable, but
sometimes his kisses are too hard, if you get my drift), but I appreciate and
recognize that this is a big change for him AND us–we're all acclimating, to
say the least. Because of all these life changes, simplicity only need
apply at the moment. Enter: the Bugaboo Cameleon3 Elements; it
transforms a bassinet (perfect for Teddy) into a toddler seat (perfect for
Teddy in a few months or Harry currently). I took her (the stroller–I
decided it's a she) for a stroll in our fair urban jungle this past weekend and
was so surprised by how smooth the ride was. The shock absorption system
can't even be compared to other strollers I have or have used–it's incredible.
Teddy didn't wake from the many sidewalk cracks and potholes we
encountered and if you live in Chicago, you understand how rough our roads and
sidewalks can be. The black faux leather handlebar and carry handle was actually easy to push and turn (you'd be
surprised with how hard it is to maneuver big strollers)–easy enough for big
brother Harry to help push it! I've done some pretty intense stroller
shopping seeing as I have two kids now and always was intrigued by Bugaboo
strollers but never took the plunge. I
was really excited to get the
Cameleon3 Elements and I must say, I'm really impressed by
both the design and functionality. I
understand why they have such a cult following.
The
Bugaboo
Cameleon3 Elements is inspired by nature and I actually think the
pretty, ombré design is the perfect foil to the concrete nature of city living.
Sometimes I'm envious of those who are constantly surrounded by the
natural elements–rivers, mountains, rolling hills–but I know I'd have a hard
time giving up life in the big city. I guess you could say the
Cameleon3 is my compromise; it's color and design is unique and stands out in a good
away…especially in the sea of all black strollers that everyone pushes around
my neighborhood (I'm guilty as I have another all-black stroller, as well).
The Bugaboo Cameleon3 Elements is truly a breath of fresh air–the
colors are one of a kind (a river-stone-shade – a mélange) and when it comes down to the brass tacks as a
stroller, it totally fits all of my family's needs for our urban lifestyle.