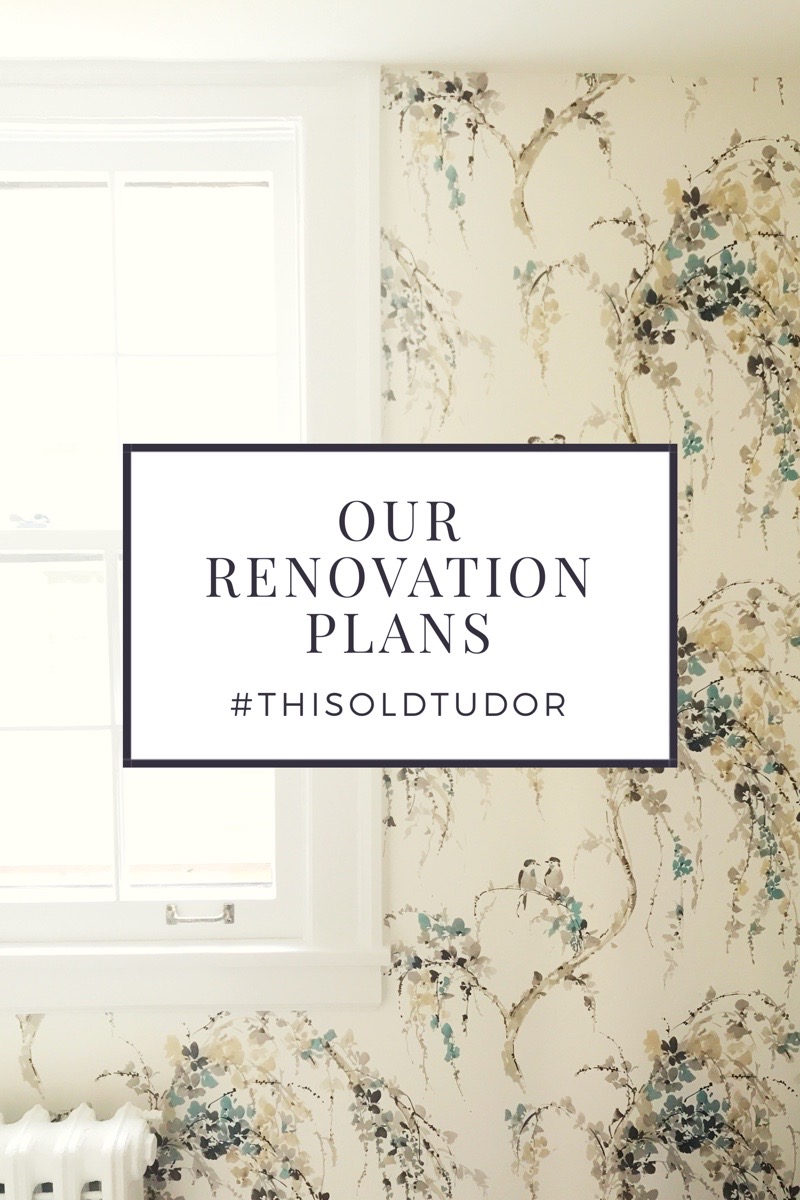 As you know (because I post about it on IG stories quite often), we're slowly making our house a home.  And if you're new to these parts, welcome!  To sum it up: we moved to the northern Chicago suburbs (read more about why we did it here).  I've never given additional context into what we were looking for so let me lay it out there for you.  To me, the northern suburbs have gorgeous older homes and mature, tree-lined streets–I knew that's what I wanted.  I'm a history buff and it excited me to live in a home from the early 20th century – you can't replicate some of those details!  What we needed: 4 bedrooms, some outdoor space, and were hoping for a 2-car garage.  I knew that with our budget, we'd have to take on renovations and I was totally cool with it; in fact, I wanted a house with some projects as I WANTED to renovate.  Am I crazy?  Probably.  (Funny story: my parents build an addition AND renovated the 1960s house I grew up in and I remember it taking FOREVER.  It probably did, in retrospect, but as a kid, I thought it took like two years.  I think in all actuality, it took like 5 months–was supposed to take 8 weeks, naturally.)
What we bought: a 1926 Tudor revival.  Can I be honest?  Initially, I wasn't a huge fan of the Tudor exterior–they reminded me of a frat house or college campus building on the east coast.  Eric on the other hand, was obsessed.  What is it about men and wood?  Don't answer that.  But honestly, its charm has really grown on me and while Colonials and Cape Cods are my favorite, I am really embracing the uniqueness and special architectural details of Tudor homes.
What we did after first (post-closing/before we moved in):
Skim coat and painted the whole interior of the house–including the ceiling (except 3 bedrooms and basement)  – what the heck is skim coating? Well, a lot of these older homes have plaster walls and I'm not quite sure if it was a technique of the times or the nature of plaster but it made for textured walls.  Eric was surprised it bothered me so much, but different strokes for different folks. One contractor suggested putting up dry wall and I didn't want to compromise the moldings so we skim coated the walls to make them smooth and I can't recommend it enough.  The walls look incredible. Paint we used: Benjamin Moore White Dove
Painted the original moldings and built-ins (see my post on it here) – a very controversial thing to do in the interior world but I have zero regrets!  I love how it looks.
Sanded and re-finished hardwood floors (but not in the bedrooms). The floors were stained a dark, reddish brown.  I was on the fence about staining them but am SO glad I did.  Most of the hardwood in the house is original (except for the kitchen as it was remodeled in the 90s) and I wanted a stain that would let the beauty of the floors shine through.  Stain: Provincial
Added new light fixtures.  This was a no-brainer but picking out new light fixtures really helps make your house your own.
Carpeted part of the basement – The basement is so 70s chic (with yellow-orange glossy wood paneled walls and a BAR) but it was tiled and because it's our 'kid-zone' we carpeted the common space before moving in (a plush berber carpet).
Obviously, this isn't a tiny or inexpensive list but since this house was under our budget, we had some wiggle room to make these changes.  (The first house we were under contract with, that we ultimately lost, was on the higher end of our budget and I probably wouldn't have done anything before we moved in.)  I chose to do these things before moving in because they're all jobs that can't be done while you're living in the house.  And all this work took about 3 weeks.
First up to renovate:
All the bathrooms need renovating – and yes, we knew that we'd be taking them on before moving in.  But, the master bath is first on our list and will be the biggest (and most expensive) undertaking because we're most likely have to move a wall.  Its TINY.  Like, really tiny.  (It is smaller than the kids' bathroom.) And our bedroom is pretty big, but also has a lot of dead space, so moving a wall will be unnecessary.  I've talked to my contractor about also adding a closet since we're moving walls.  The closet space in these old homes is minimal and we might as well kill two birds with one stone.
Kids' bath might not happen this year but it's next on the list.  If you follow me on IG stories, perhaps you're mesmerized by the jade green tiles (they're growing on me) but some of them are in bad shape and there's zero storage (the sink is a pedestal sink). I'm excited to retile the whole bath and get a new vanity i there.  We're not configuring anything but we may have to remove the tub to update the plumbing (which is cast iron and weighs a million pounds..eek).
The powder room is currently being renovated.  I didn't utilize my contractor because he's insanely busy and most of the work is cosmetic so I found a very talented handyman to help me out.  He's been incredible.
I'm changing out the fireplace mantel.  The living room is my 'adult conversation room' (Eric's like, what?) and the room is pretty big – I think we could put a grander mantel in there.  I thought I'd change the marble/fireplace surround, too, but it doesn't seem worth the cost and I don't mind the light beige.
We're building a fence around the yard.  We're on a corner lot and don't have a traditional  'backyard' but we do have a big side yard.  The landscaping makes the house very private, which we like, but we'd like to build a fence around it so we don't have to worry about the kids or dog.  We play outside every day so this is important to us.
Are you exhausted reading all this?  Typing it out makes it seem daunting but I'm really excited by it.  Our condo in the city was new construction and I picked out EVERYTHING–like down to the doorknobs so I knew when we moved to the suburbs I'd want to old house that we could renovate while leaving its character.  Eventually, here's what else I'd like to renovate (but I'll probably run out of money).
Wish List Renovations:
Guest suite – I'd love to wallpaper this room and also remodel the attached bath.  Again, the tiles are in rough shape and I would love to make this my 'colorful' bathroom where guests (i.e. my mom or in-laws) will feel at home.
Attic/5th bedroom – the people who lived in the house prior to us used the attic as a bedroom.  Right now, I store my clothes up there.  I talked to Eric about making nit a closet/office with awesome built-ins but I haven't really decided what to do with it.
The kitchen – all I see today in newer or newly renovated homes are ISLANDS.  They've taken over.  Well, our kitchen doesn't have one, but it does have a peninsula.  I don't think I want to tear down the wall between the dining room ad the kitchen so I can add an island, but ask me next year.  The kitchen was actually updated in 1999 and while the color scheme and cabinets aren't my jam, the layout is quite functional.  I guess you'd call it a galley kitchen but it has way more storage than I thought it would.  My gut says that next year, we update the cabinets, countertops and add a banquette for kitchen eating.
The exterior – No, I won't take away the charm of #thisoldtudor but I'd like to make tweaks to the color scheme (i.e. paint the timbers, stucco, and door, add shutters, etc).
PHEW.  But it's good to have a plan, right?  And if I could offer any suggestions about ANYTHING, it'd be this.
Price shop contractors and get referrals (yeah, you'll probably end up spending more but get an estimate).  Ours has no website, which probably makes him more affordable, but he came recommended from our realtor AND he did work on our condo at a fair price.  You want a contractor with connections because they're essentially a project manager for your renovation.
Use a handyman for littler jobs.  I found an awesome handyman on Next Door to install light fixtures for me.  His price was totally reasonable and the person who recommended him said he also renovated their bathrooms and helped with their basement.  When he was here, I asked him about our powder room since it's largely cosmetic and he offered to do it at a great price (be upfront about ALL the work)!  He also said he had never hung wallpaper but he was so meticulous, I knew he'd do a good job.  Guess what–he did AWESOME and I've already recommended him to a bunch of friends.  My contractor, although reasonable, would've been a lot more expensive for this powder room because he'd have to bring in a few different people.
Focus on one room at a time.  We still have boxes we need to unpack.  I still have't hung photos.  And it's ok! Making a house a home takes time.  Don't try to do everything at once.
As I said on IG stories, the house was really taken well care of.  You can tell that the previous owners really were meticulous about general maintenance–even the inspector said it was in awesome shape for being almost 100 years old..  And you might wonder, why buy this house when you want to change so many things?  Well, I might not change everything but I do want to put our mark on it, much like the previous owners did.  I'm not looking to make a 1926 Tudor into modern penthouse – I just want to update it while keeping the integrity of the home.  Also, with real estate, it's a feeling.  Eric and I saw this home four different times.  We kept coming back to it because it made us feel good.  We even tried to buy another house and eventually came back to this house.
I edited this post to include some closing day photos I took myself and a few listing photos.  My living room isn't fully furnished yet but you can see what changes I've made so far here.