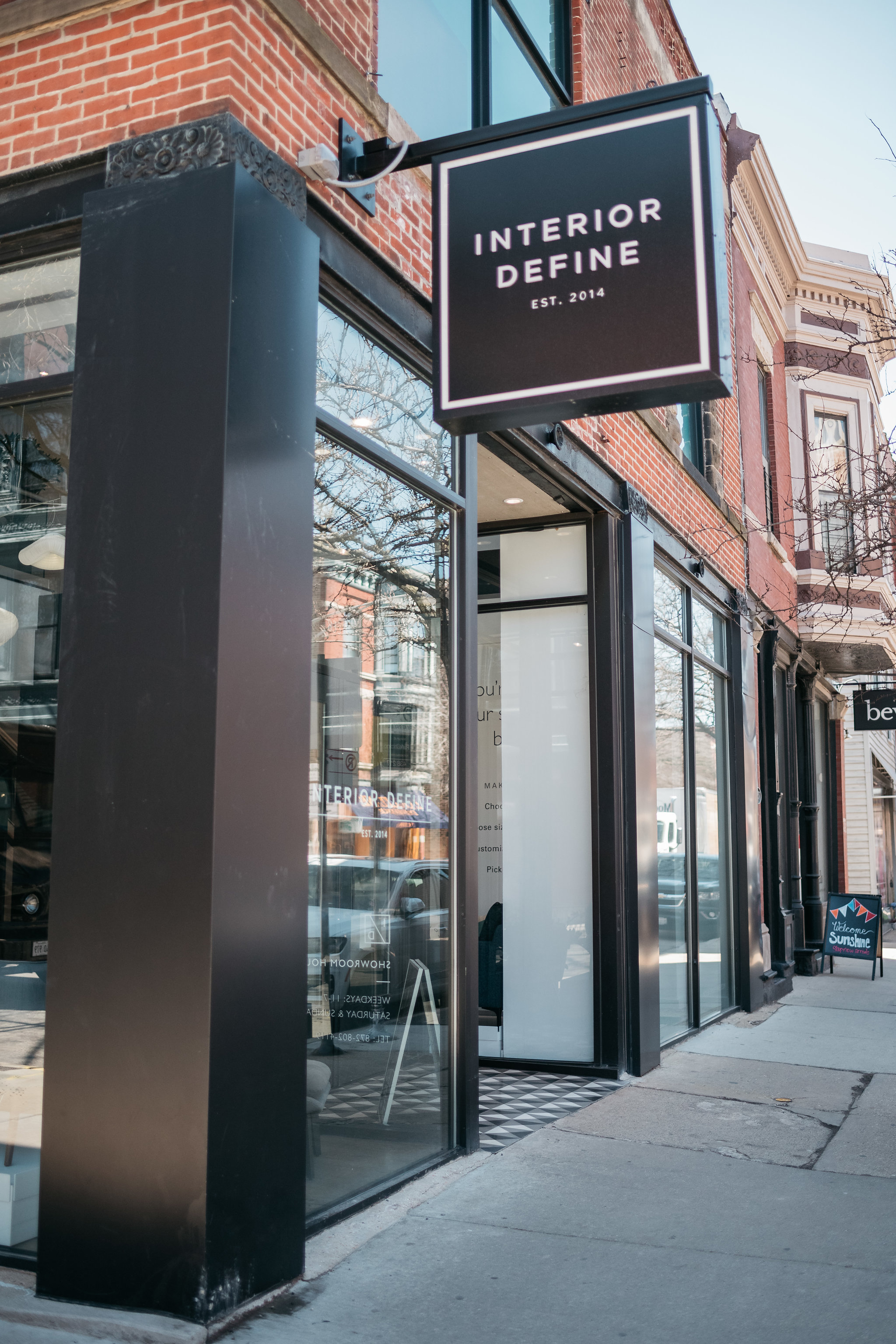 I'm very excited to be teaming up with a local furniture company Interior Define that's headquartered here in Chicago.  So, what is Interior Define, anyway?  It's a home furnishing company that started out selling couches and chairs (they now have beds and soon other fun things are coming down the pike!) and were determined to make it a more enjoyable and personalized process, because let's face it, buying a couch is both a major financial and decor decision and it's the heart of your home–you LIVE on it.  I stopped into the store last month to work with a designer and pick out couches for our living room (yes, this room will finally have some furniture) and it was so seamless that I couldn't believe it.  I've picked out my own couches before from other furniture retailers and it's the worst process because the sales associates aren't really there to assure you, just rather ring you up, and you sit there second guessing yourself, "will this REALLY work in my space?"  So let me tell you what's so great about Interior Define:
You can work with a design specialist who can truly assist you.  My specialist, Lisa, helped me nail down a color, finalize the couch length I needed for my room and even helped me determine what size rug I should get in my room.
The styles range from modern to classic with TONS of fabrications to choose from.
The Guideshop is a must if you're in any of their locations (see here)..  Meet your design specialist, show them your Pinterest board (here's mine for our new house), sit in the couches – I'm a person who loves an experience so being able to visit was a huge plus (although, I've also been working with them online and it's been great, too)
They give you free swatches to test in your home – and they're HUGE!  I love that they aren't skimpy.  When Lisa gave me the swatches to show Eric, I was like…wait, I can keep these?
Free white-glove delivery and 365-day return policy.  In this Amazon day in age, we seem to get offended when someone isn't free delivery and I love that this is their policy.  Basically no home furnishing companies do this either, by the way.
The prices are hard to beat.
My advice for shopping with them:
Go in person if you can.  It's worth it to meet a specialist and test out all the options (and see them in person!) – locations: NYC, Chicago, LA, and Austin (for now).
Get a floor plan or at least measurements for your room when talking to the design specialist – it'll help them and you understand your room.
Show them your inspiration pics!  Also let them know what limitations you have (i.e. have small children and need one of their pet/child resistant fabrics or can't have leather due to pet scratching, etc).
Check out their FAQ page here (it's very helpful) and if you have any questions, leave them in the comments and I'll do my best to answer!