Nordstrom Anniversary Sale Early Access Picks: Just The Basics
The Nordstrom Anniversary Sale can be pretty overwhelming.  I work in fashion and am inundated with this stuff day in and day out–I get it.  I also realize every other blogger in the world is posting about this right now but I want to take it slow and show you my top picks from the most important categories for fall: sweaters, jeans and shoes.
I've seen many of these items in person already, too (I work for a Nordstrom company, as you may know) so I can vouch for it.  I also own each and every single one of these brands and believe in them and their quality.  While I love me a good deal and some fast fashion, what I truly aspire for while shopping are pieces I can wear over and over again.  (Please note that this week of the sale is for Nordstrom card holders only, but you can easily apply online if you don't already have one.) . Let's get started, shall we?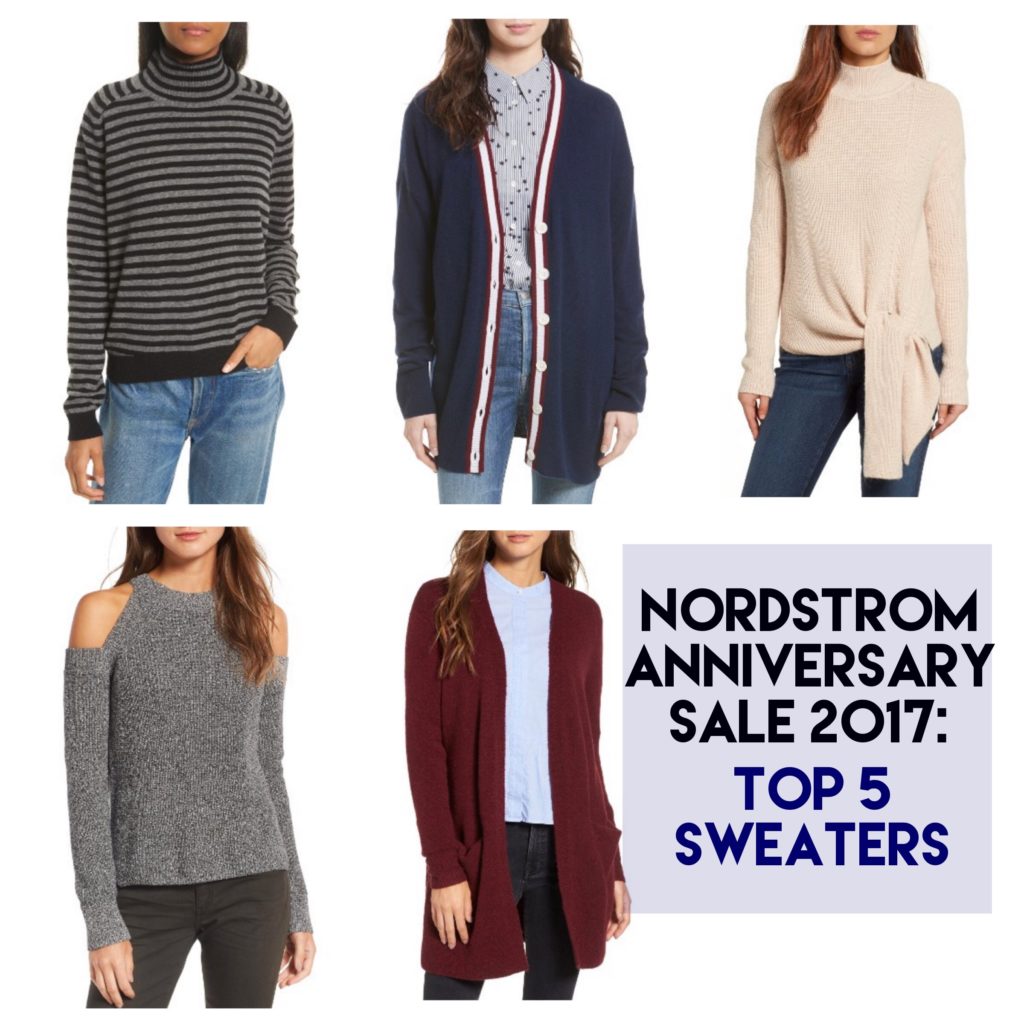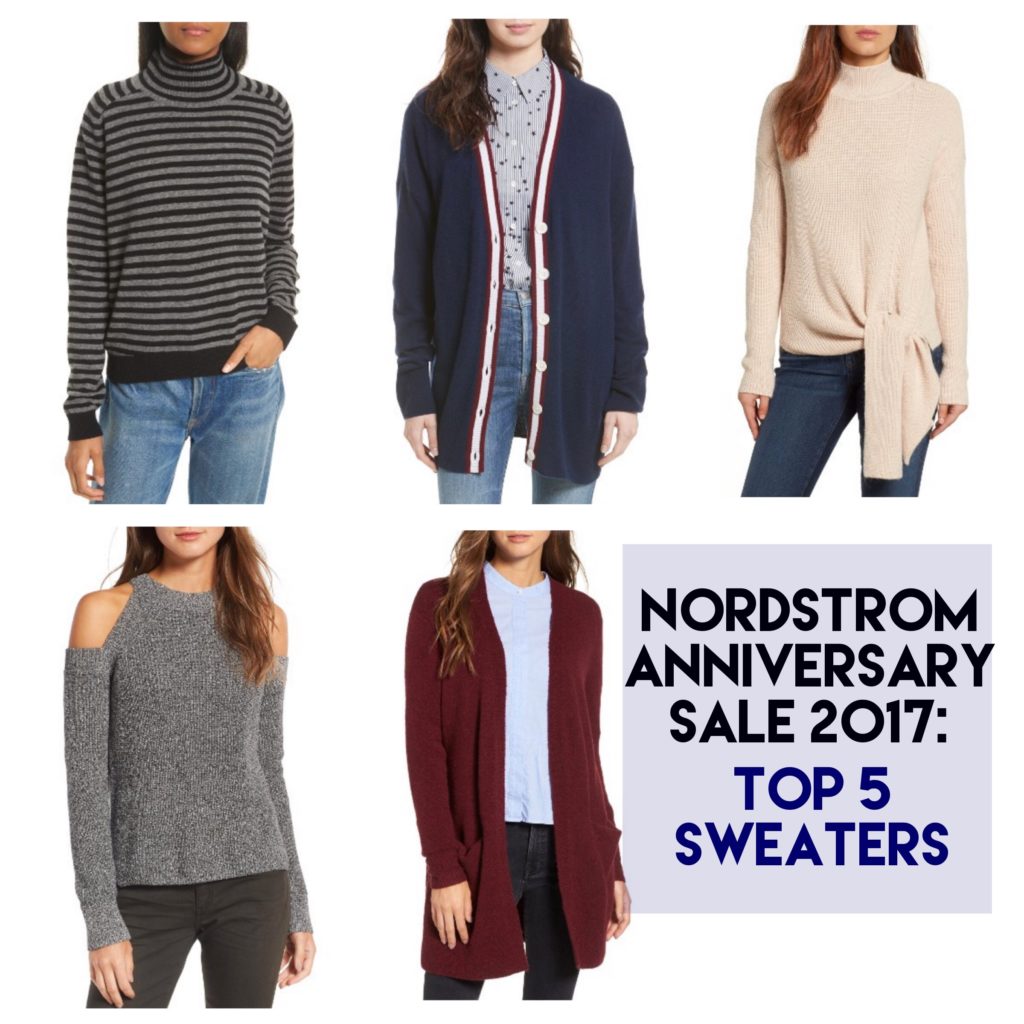 Top 5 Nordstrom Anniversary Sale Sweater Picks
I live in Chicago.  If I know ANYTHING in this life, it's a good sweater.
Halogen Tie-Hem Sweater – you know I love a good tie, right?!  This sweater looks MUCH more expensive than it is.  If you don't know Halogen, it's a Nordstrom private label brand but they do a great job of experimenting with trends.
rag & bone cold shoulder sweater – Our shoulders aren't going to be covered up anytime soon.  Rag & Bone does some amazing sweaters and this is a pretty great price for their line.
Madewell cardigan – Madewell ALWAYS sucks me in with their fair-priced, well-made sweaters.  If you live in a warmer climate, this can be your coat but for here in Chicago, this sweater will be worn September – May.
Vince cashmere turtleneck – Vince relaunched their brand last year and went back to using higher quality materials again, so I believe in them once again.  Their cashmere last year had an amazing hand (remember this beauty?) and if you are going to splurge during Anniversary Sale, let it be on this.
Equipment cashmere cardigan – I still have Equipment cashmere sweaters from 2014 (this style); you can't avoid pilling in cashmere BUT there is a difference in quality when you compare higher-end cashmere to opening price point.  This stuff is the real deal and again: cardigans for life.

Top 5 Nordstrom Anniversary Sale Denim Picks
Current/Elliott uneven hem – there's something about an uneven hem that looks so modern and I can't put my finger on it.  Clearly this trend isn't going anywhere.  Current/Elliott jeans are great for the shorter ladies, too!
AG Farrah skinny jeans (burgundy) – gosh, I love this color.  Give me a bordeaux for fall and that's all I need.  What is it about a deep wine shade that makes my heart go pitter patter?  I'm personally glad colored jeans are making a resurgence.  Should I bust these back out?
Madewell – In terms of value, you can't go wrong with a pair of Madewell jeans.  Distressed, black, raw hem AND under $100?  Alright, sold.
Topshop – Topshop may be the most underrated brand in denim.  The fit can be tricky (they run SMALL – SIZE UP, I repeat, size up and don't apologize for it!) but once you find your fit, you're like ah, I CAN wear mom jeans and look cool.  Plus, denim trends are going towards 100% cotton (no stretch!) and these babies are just that.
rag & bone leather front jeans – OK, FINE, these are jeans.  But leather pants aren't going anywhere, friends.  I bought my first pair of leather leggings in 2012 (Theory) and my husband scoffed, thinking I'd wear them twice and forget about them.  Guess what, I STILL WEAR THEM.  I like these because they're only a leather front, therefore, making them a bit more casual AND comfortable.  (Hint: watch out for in rag & bone pants is the leg opening (it's an 11″ inch)–I have slight calves and sometimes rag & bone skinny pants aren't quite skinny enough for me)

Top 5 Nordstrom Anniversary Sale Shoe Picks
Vince loafer – I have a soft spot for Vince shoes (I think they run slightly wide, so heads up if you have a narrow foot like me) and these loafers are no exception.  How great will they be with a white jean now and with those AG burgundy jeans (above) come fall?!
rag & bone bootie -I've received a few questions over the years about rag & bone booties and if they're worth it.  I'll jump on this bandwagon; they're comfortable, well-made and classic enough to wear for years.  The color of this particular pair makes my knees weak; a camel bootie that you love IS a wardrobe essential, no question.
Dolce Vita bootie – When I saw these booties, I went, huh – those are pretty cool.  You may have noticed that white/cream boots are having a moment.  Without going TOO go-go, these are a great way to dip your toe into the white bootie trend.  I think these would love amazing with any of the denim picks from above, particularly the uneven hem and light washes.
UGG slippers – Are these really a shoe?  In my household, they sure are.  I wear these around the house whenever I'm home and the rubber sole means I can take Jerome outside while wearing them.  Tip: these make an awesome gift because no one wants to buy fancy slippers for themselves (…or do they?)
Treasure & Bond bootie – I know, I know another bootie.  But, this is the sale where you get your booties before they sell out! Plus, booties have become more of a year-round shoe.  Why do I love these?  Well, besides for being replicas of Acne's famed Jensen booties, they're that rich burgundy hue that I love.  I have this pair in black and it gets a LOT of wear from me.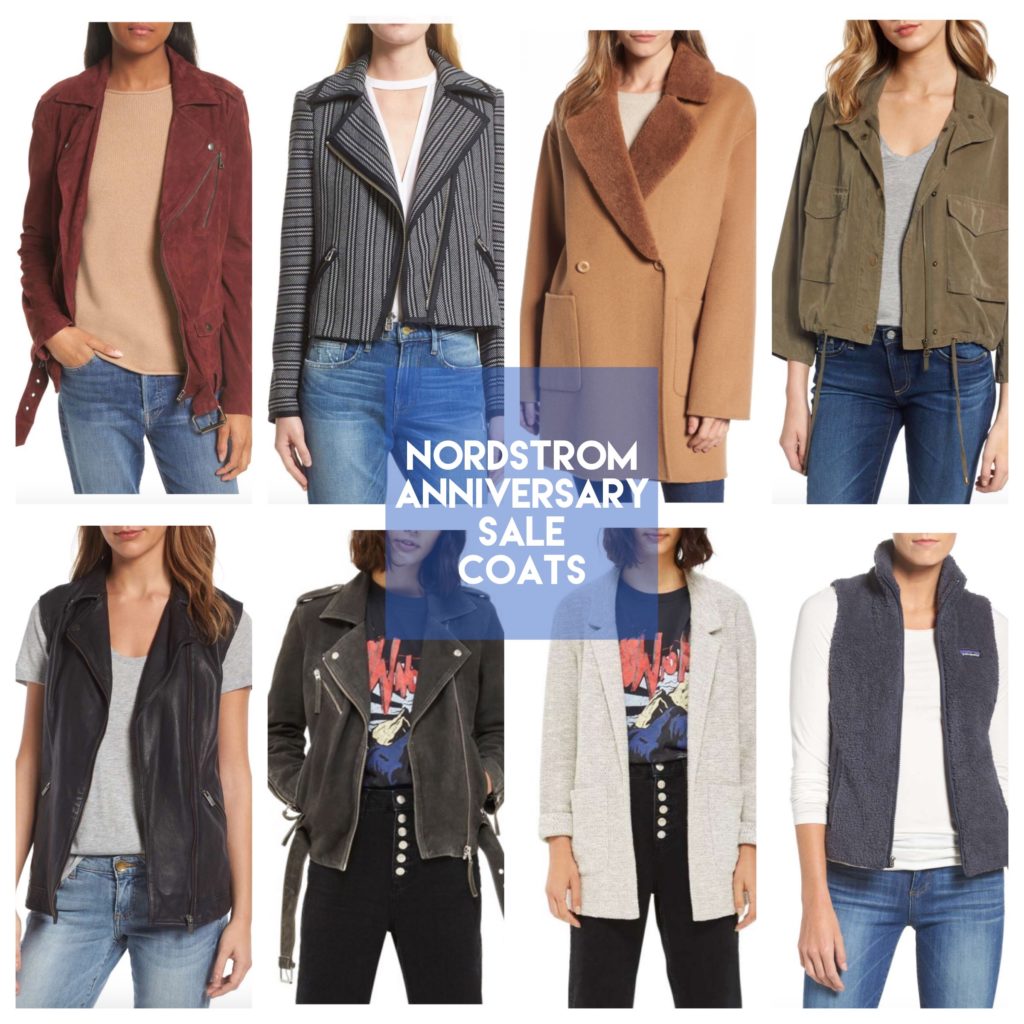 Top 8 Nordstrom Anniversary Sale Coat Picks
Jackets are such a wide category that I can't narrow down just five choices.  Plus, you know I'm a coat gal, through and through (Chicago will do that to you), so I felt it was important for you to have a wider range of choices here.  Again, if you want to invest in a suede or leather moto jacket for fall, now is the time to do it as you'll get wear out of it for a solid 8-9 months out of the year and those types of jackets rarely go on sale.
Topshop suede biker – Topshop makes a solid moto jacket at an awesome price.  A few years ago, their hunter green version was all the rage.  Topshop has a knack for making their products look so much more expensive than they are and to me, that's the best part about lower-priced brands.
Trina Turk shearling collar – Trina Turk has been making a version of this coat for a few years now and for good reason: it's a chic yet classic silhouette with a special detail.  The shearling collar alone sells me but the rich, buttery hue convinces me that nothing is more classic than a good-looking camel coat.
Theory suede jacket – I'm a coat gal, through and through and as soon as I saw this jacket, it was reminiscent of the Veda moto jacket I bought at Anniversary sale tow years back.  I love the slightly oversized fit on this one (and the color of course).  To me, Anniversary Sale is more about getting a good deal on something special and this jacket is just that.
Veronica Beard knit moto – Are we seeing a theme with these moto jacket silhouettes?  The knit is thick and as soon you touch a VB jacket (I still wear this one from last year a lot), you know it's well made.  This would be awesome over a dark, knit sheath dress for work and also with a white, silk cami with those Madewell jeans (above) for a night out.
Patagonia vest – Vests are the ultimate transition piece and somehow make you look pulled together.  They go along well with the whole Athleisure movement and I always seem to steal Eric's Patagonia jackets and vests so I'm getting my own.  Also, I don't like Patagonia jackets tight so I go for a more oversized look.
Splendid crop military jacket – We ALL love a good military jacket for fall, so why not try a new silhouette.  Jeans, of course, will be perfect with this, but how great with a swingy dress be with this jacket'?
Halogen leather vest – I've had my eyes on a leather moto vest for years.  Why have I never pulled the trigger?  They were always just too expensive (I was looking at IRO and even Madewell) but this vest comes in at $159, which is totally digestable.  Again, vests are great transition pieces and you can wear this over a tee now and in the winter over a sweater (if you're in frozen temps like Chicago, you'll have to wear another jacket on top–sorry).
Topshop unstructured blazer – This blazer is the definition of effortless.  You throw it on with a t-shirt, jeans and some easy ankle strap sandals: boom, great outfit.  Plus, you can't beat under $50 for a great jacket.
And that's all I have in me for the Nordstrom Anniversary Sale, gang.  I plan to round up a few more categories (dresses, tops, workout gear), but if you have any additional call-outs, please ping me or leave a message in the comments!  I'm here to help.