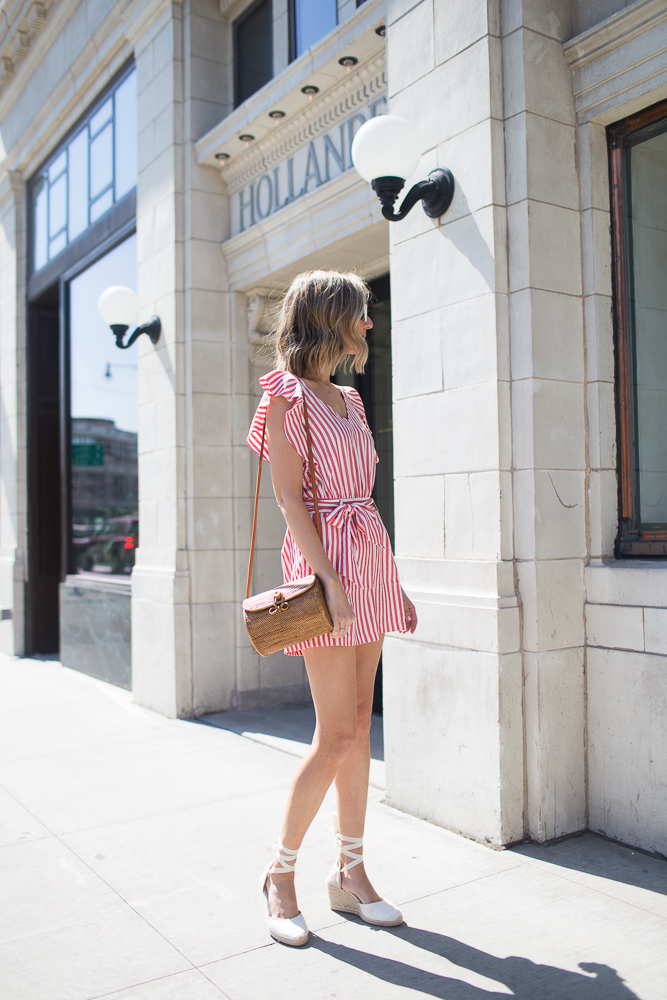 Option 1:  LOFT romper, similar espadrilles
Option 2:  LOFT dress
There's so many occasions to dress for in May and you can FINALLY wear the pretty dresses and rompers that have been tempting you for months.  I'm teaming up with LOFT to showcase the incredibly wearable pieces they have right now that are perfect for Mother's Day brunches, graduations and any occasion that takes you outside (because honestly, with this past winter we experienced, we earned this time outdoors)!  Oh, and by the way, they're having a Mother's Day sale going on right now! I was torn between this red, striped romper that immediately caught my eye and the blue and white shift dress that reminds me of Greece, so I went with both! Both LOFT options are perfect for just about any occasion this month–the shift dress was especially good for wrangling my boys (see below) because it was super comfortable.  They're at the age where we absolutely cannot get a photo where we're all looking at the camera, so for the foreseeable future, we're sticking with candid shots. Which one is your favorite? (You can say both.)
LOFT options I love for Mother's Day Brunch (on sale!):
Wear to brunch, but also to the office.
Love this vibrant color and you'll wear it all summer long (I tried this on in-store and loved it).
Periwinkle is one of those colors that looks good on EVERYONE.
There's no way you could ever feel sad while wearing this dress.
For the fancier Mother's Day event.
*Thanks to LOFT for partnering with this post!