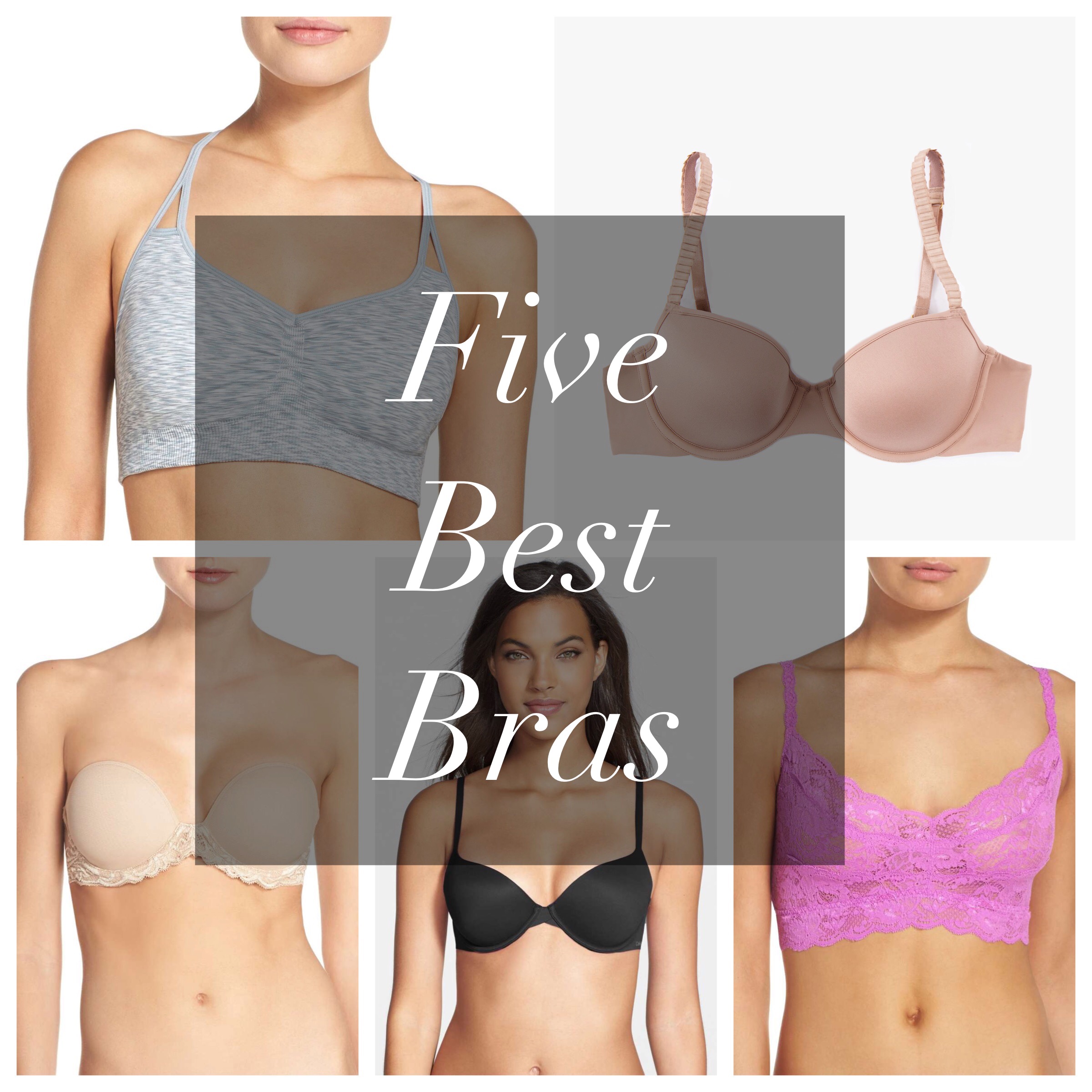 I'm a loyalist when it comes to my undergarments; I find what works and stick with it, so today I want to talk about the five best bras I love to wear.  A little background about my chest:  I'm a solid B-cup and pretty much have been since high school.  While my cup size has remained consistent, nursing two kids has definitely deflated my breasts.  They've lost that perk that I once took for granted.  In high school, I loved the tank/tube tops with built in bras; they were all I needed in terms of support.  Then, I experimented with the ol' push up bra (thanks, Victoria Secret).  However, for the past decade, I've really come to love a no-frills t-shirt bra and a bralette.
Five Best Bras
Third Love 24/7 Classic T-shirt Bra – *Just a quick disclaimer that this company sent me some bras to try (brands often send me things without strings attached–this is not sponsored whatsoever).  I wasn't expecting much when I pulled out this bra to try.  I thought, 'oh a t-shirt bra–everyone does that.  It will probably be just like my Gap Body bra.'  Oh, how wrong i was.  This is possibly the best fitting bra I've ever worn.  It's like it was made for me and it's comfortable day after day.  The shoulder straps are perfection and it looks amazing under everything I wear.  This is definitely my favorite bra right now and one of the best bras ever.
Calvin Klein T-shirt Bra – what can I say?  I like t-shirt bras.  They're the best bras in terms of function and comfort.  This is my go-to black bra; I also wear it when I want my breasts to look nice and perky.  It's the most understated push-up bra ever and for that, it's in my top five.
Cosabella Never Say Never – Bralettes for life, especially in the summer.  I don't mind when they peek out from underneath my clothing (they're lace, why not?) and they're like wearing nothing at all.  I have several of these and also almost exclusively wore the nursing version of this while I breastfed both kids.  Some bralettes can make your boobs look a little weird–pointy even.  I've tried less expensive brands and they're either too scratchy or don't support me enough (you need at least a LITTLE support in these bralettes!).
Natori Feathers Underwire Convertible Strapless bra – I really don't like strapless bras.  I remember wearing them to school dances and constantly tugging at them.  They were bulky and ill-fitting.  This Natori bra is the opposite of everything I hated about those bras–it's lightweight and doesn't ride up or down.  While I still don't love strapless bras, they're definitely necessary sometimes (hello, off the shoulder tops!) and this one is my go-to.
Zella Sports Bra – Oh hey, I work out now.  Ever since I tried on my first Zella sports bra, it was love.  It's perfectly snug and every single style (that I've bought) fits me!  Plus, they always go on sale–score!  This one is also on regular rotation.