Weeknight Spaghetti and Meatballs with Our Place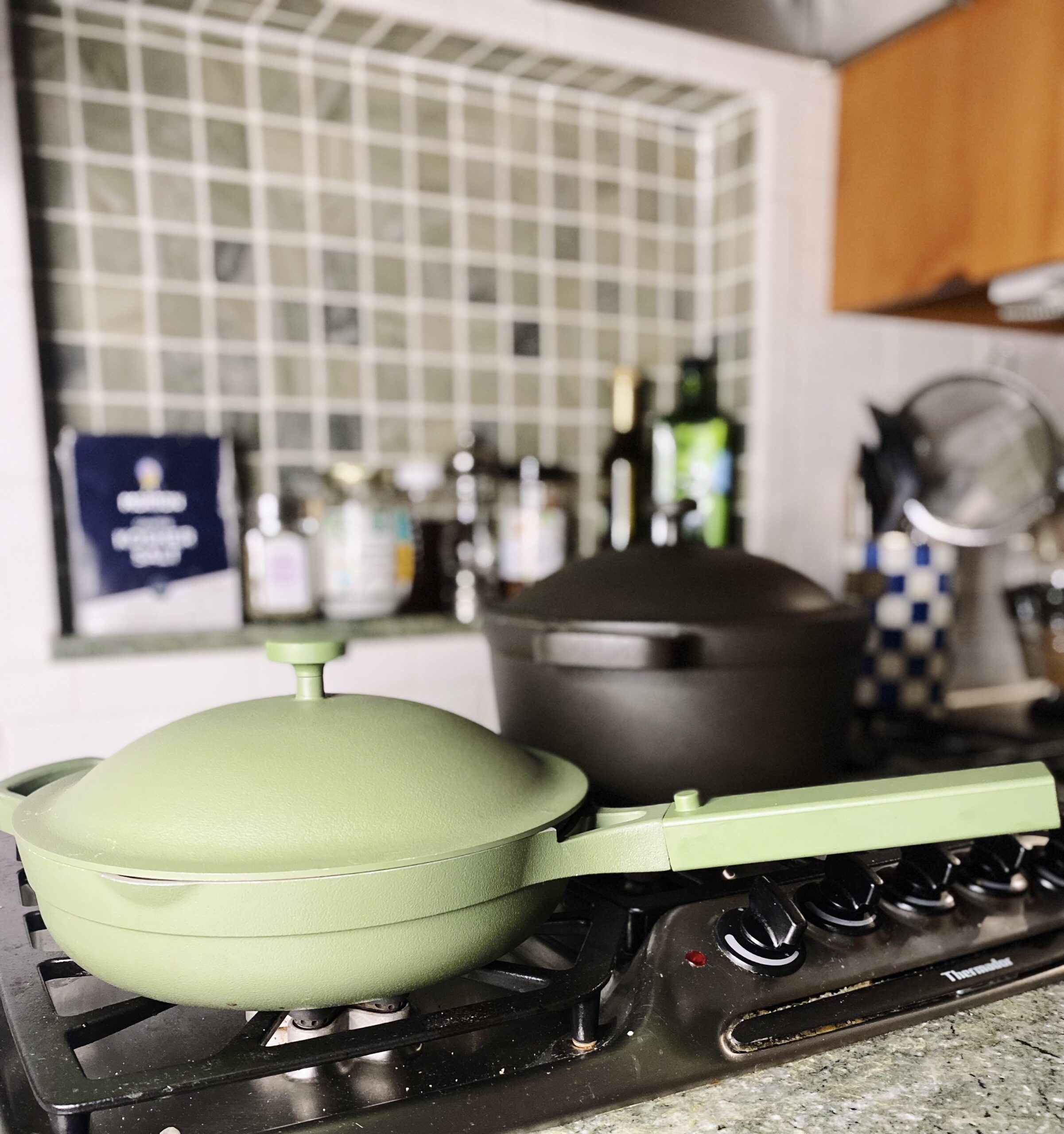 *Thanks to Our Place fo sponsoring this post!
It's been a year and a half since I was first introduced to Our Place and it's been a love affair ever since I first used the Always Pan. I am not exaggerating when I say that I use the Always Pan nearly daily. Both my mother-in-law, sister-in-law, and nanny have always commented that they love using it, so I bought them each one for Christmas last year! The non-stick capabilities are amazing and I love that it's so deep. (Check out a past review and my tips for taking care of your Always Pan.)
Naturally Our Place struck a chord with consumers after the release of the Always Pan and they started to release more products. I use their knives nearly every day, too (I cook at least 3-4 dinners a week). Then, they released the Perfect Pot, which was perfect timing because my old pasta pot was on it's last leg (they say non-stick pans last 1-5 years….mine are from 2009 and definitely aren't the same non-toxic non-stick that Our Place uses).
The Pot
The Perfect Pot has been wonderful and here are a few reasons why it's not just for boiling pasta water (although I used it for that when making these spaghetti and meatballs for my kids!).
It's lightweight

and when you're going back and forth from the stove to the sink, that matters.

It has the same non-stick capabilities as the Always Pan.

Enough said.

It's oven safe!

That's literally huge; you can truly use this as a one pot wonder.

It has a built-in strainer.

And I ALWAYS use it. It's amazing especially if you want to collect some pasta water (always collect pasta water).
Using the Always Pan and Perfect Pot in tandem makes weeknight dinners amazingly simple. It was my one year old's FIRST birthday last week (unbelievable, right?) and because he can't speak yet, I asked my older boys what to make him for his birthday dinner and they said spaghetti and meatballs, because he himself is a meatball.
Naturally, the Our Place duo came in clutch for the event. While I boiled water in the Perfect Pot, I sautéed meatballs (love this easy recipe) with onion and garlic, added crushed tomatoes with basil, then let simmer for 30 minutes. I always toss the pasta with the sauce – I've learned that combining sauces with the pasta is so much tastier and doesn't dry out the leftovers. I served it with fresh parmesan and the birthday boy and ALL my boys loved this easy weeknight dinner that was also a celebration.
Weeknight spaghetti and meatballs
Meatballs:
2 large eggs
1 cup panko breadcrumbs
½ cup milk
1 tsp. salt
1 tsp. garlic powder
½ c Parmesan
1 lb. ground beef
Freshly ground pepper
Sauce:
2 T EVOO
2 T butter
28 oz can crushed tomatoes with basil
1 chopped yellow onion
4 cloves minced garlic
1 T Italian seasoning
½ T red pepper flakes
Combine meatball ingredients and sauté in EVOO. Once browned on both sides, add chopped onion, garlic, Italian seasoning and 2 T butter. Meanwhile, boil water for pasta. Add crushed tomatoes, salt, pepper, and red pepper flakes to taste and let simmer for 20 minutes.
Drain pasta and combine with sauce and meatballs. Add freshly shaved parmesan on top.