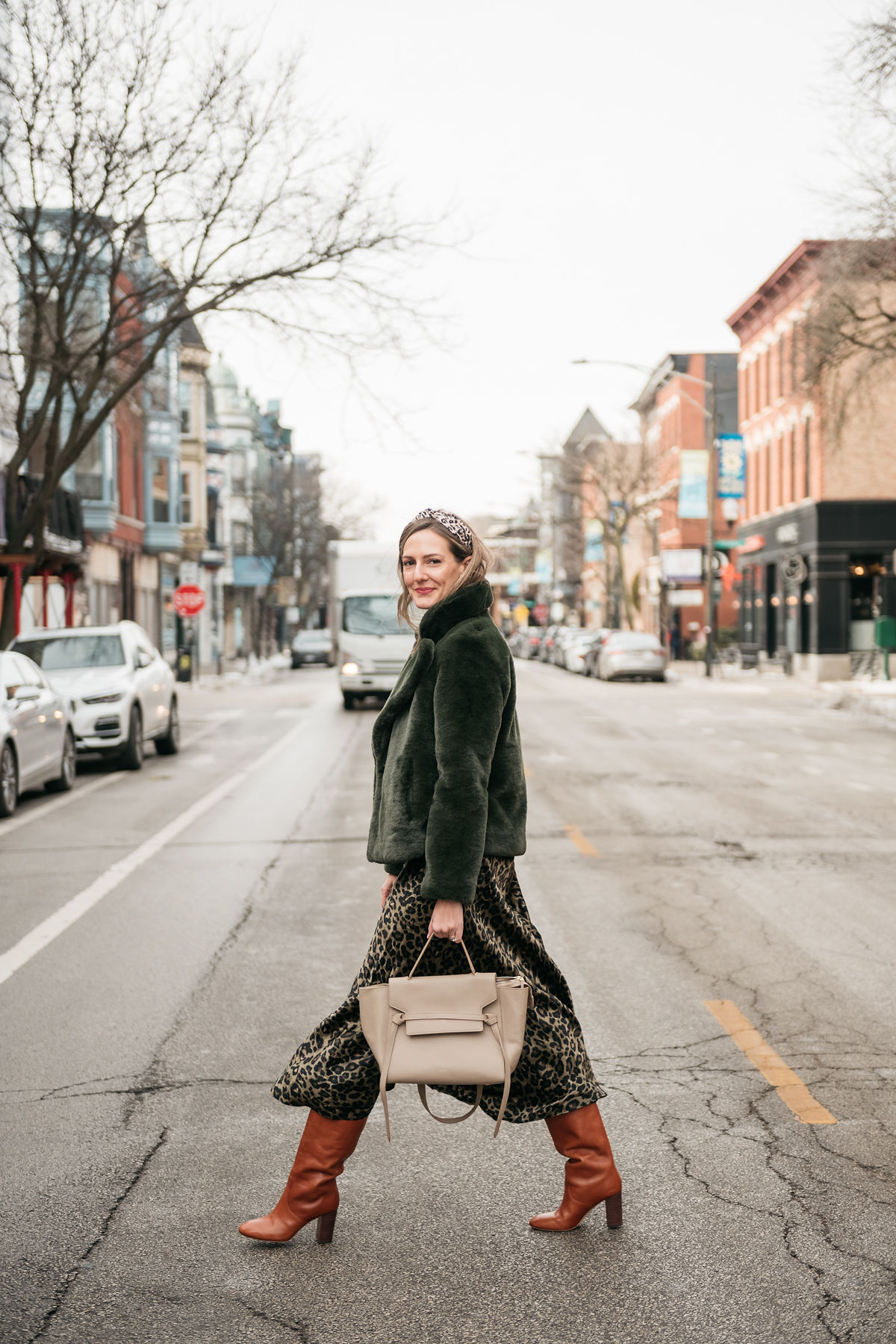 The leopard skirt is really having a moment, right? Leopard print is one of those things that is super trendy but in a lot of ways, it's really not. It's been a staple pattern in women's wardrobes since wealthy women probably wore real leopard skin on their clothings. It became mainstream in the mid-20th century, though, when Christian Dior used a leopard print in his collection. Since then, leopard print has been a staple in women's wardrobes, falling in and out of fashion (but like, not really out of fashion). BUT, the leopard skirt is garnering a lot of attention and that's because she's so easy to style!
I find myself reaching one of my few leopard skirts during all year round. It has truly become a four season staple for me and I'm certain you can wear it with just about anything in your closet. It goes with more than you think? From t-shirts to colors to sandals to boots, it's not longer a trend piece but something I've come to rely on in my wardrobe. For some reason, it still feels special when I pull it out–the pattern is subtle yet garners attention. Let's show you some outfit ideas so you, too, can feel confident when pulling out the leopard print! (For another leopard midi skirt option try this one!)
How to Style a Leopard Print Skirt
Keep it Simple
Let the leopard do the talking and be the center of attention–it craves it, after all! A basic tee or crewneck sweater is all you need to make that leopard print skirt sing.
A Pop of Color is Enough
A little color looks amazing with leopard, but again, don't go overboard! Red looks particularly amazing (a red lip!) and also a mustardy yellow pairs well, too.
Add Chambray
Denim and leopard–ahhhh, a match made in heaven. Maybe it's; a chambray shirt (think J Crew circa 2010) but a jean jacket would also look incredible.
Play with Varying Lengths
I may prefer a below the knee/midi leopard skirt style but a t-shirt with leopard mini skirt is so chic. Leopard maxi? YOU BET.
Leopard Skirt Outfit Ideas
Add an Army Jacket
I think fatigues and army jackets go with just about anything, so why not your favorite leopard skirt? Here I kept it simple with barely there sandals and it's an elevated casual look.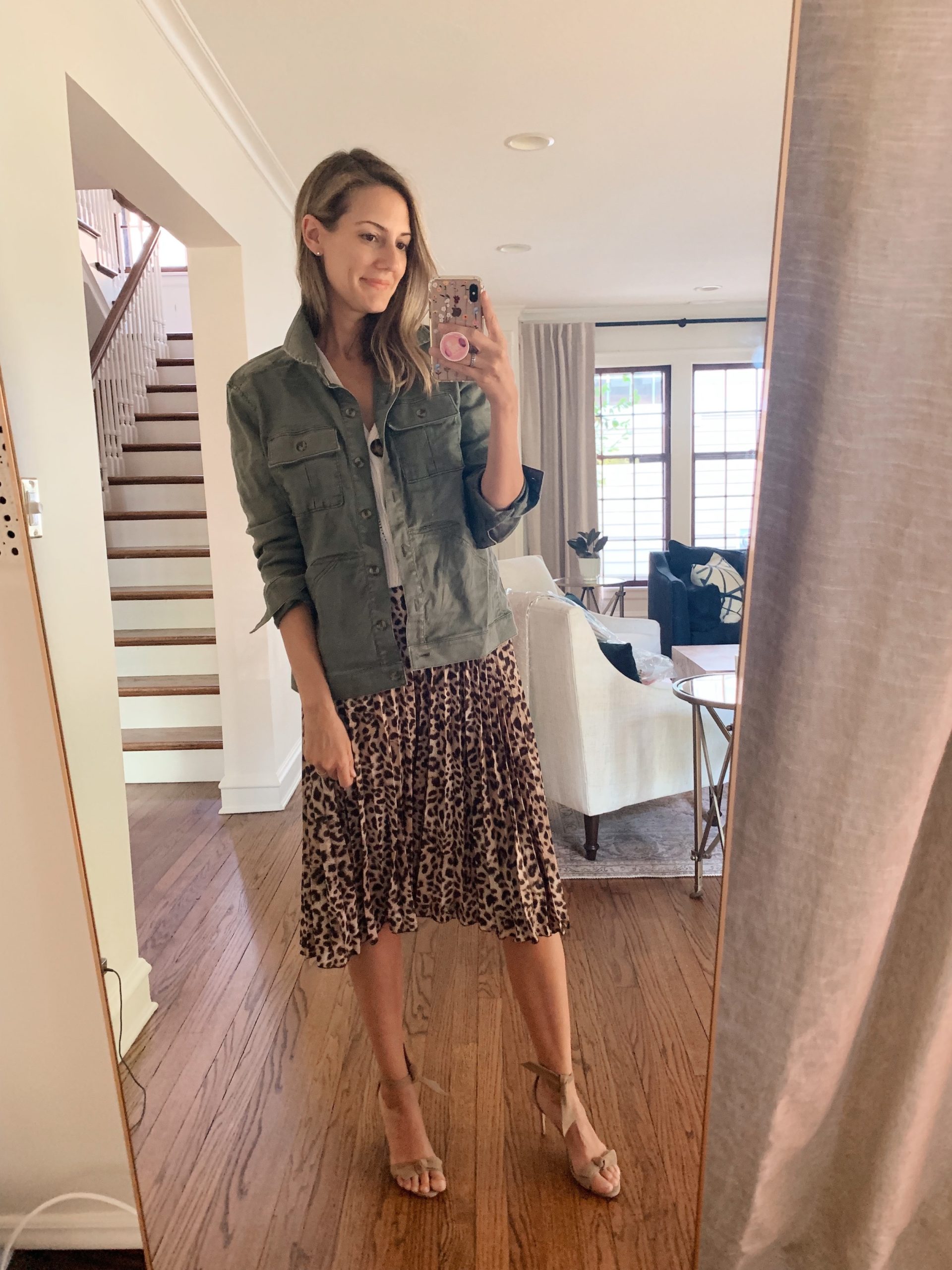 Leopard Midi with a Sweater & Boots
I've been wearing this combination all winter. A slightly cropped, neutral sweater with my current favorite knee-high boots. I feel chic whenever I wear it!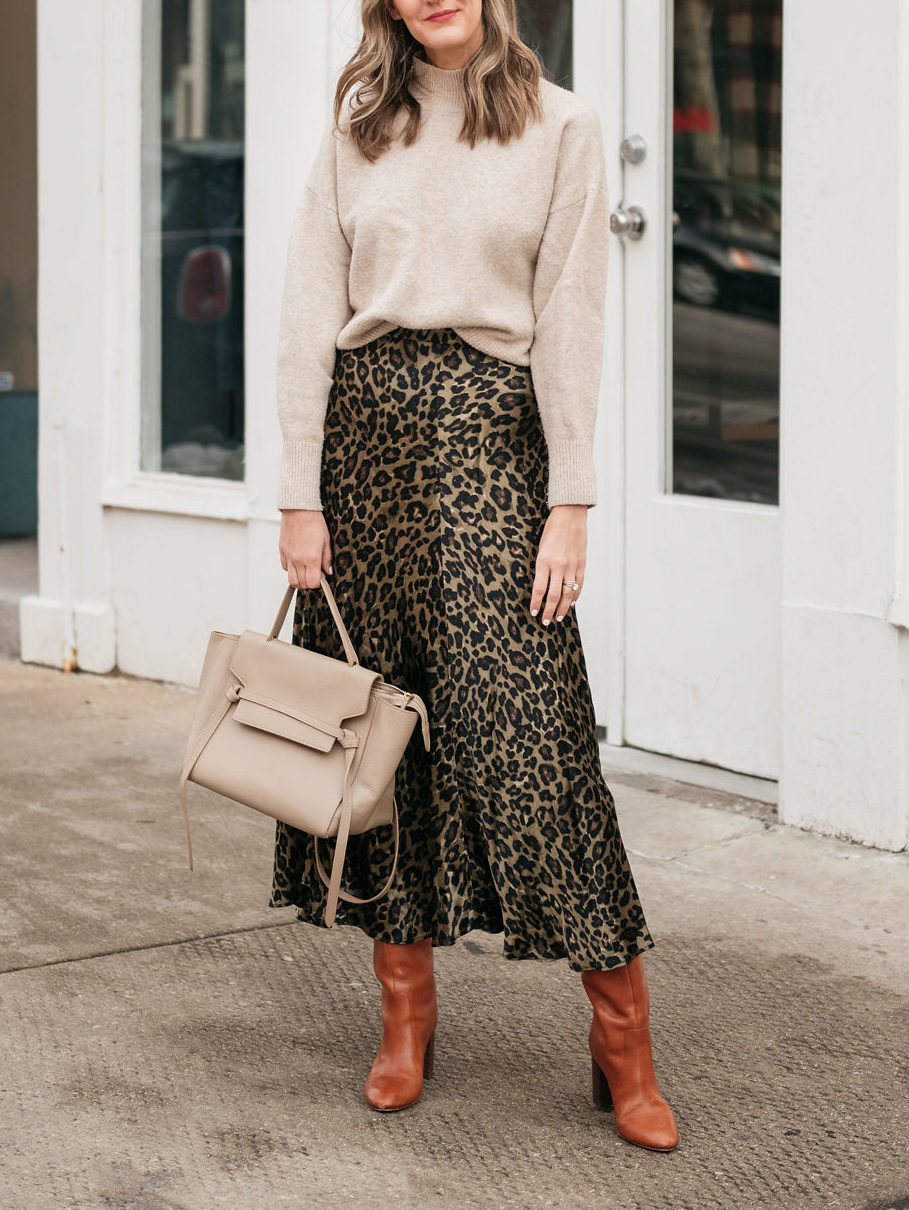 Belted with a Pop of Color
I have a confession: this is actually a dress! But it's the same idea. Throw on a crew neck sweater, add a statement belt and a pop of color–et voila! You're ready to party.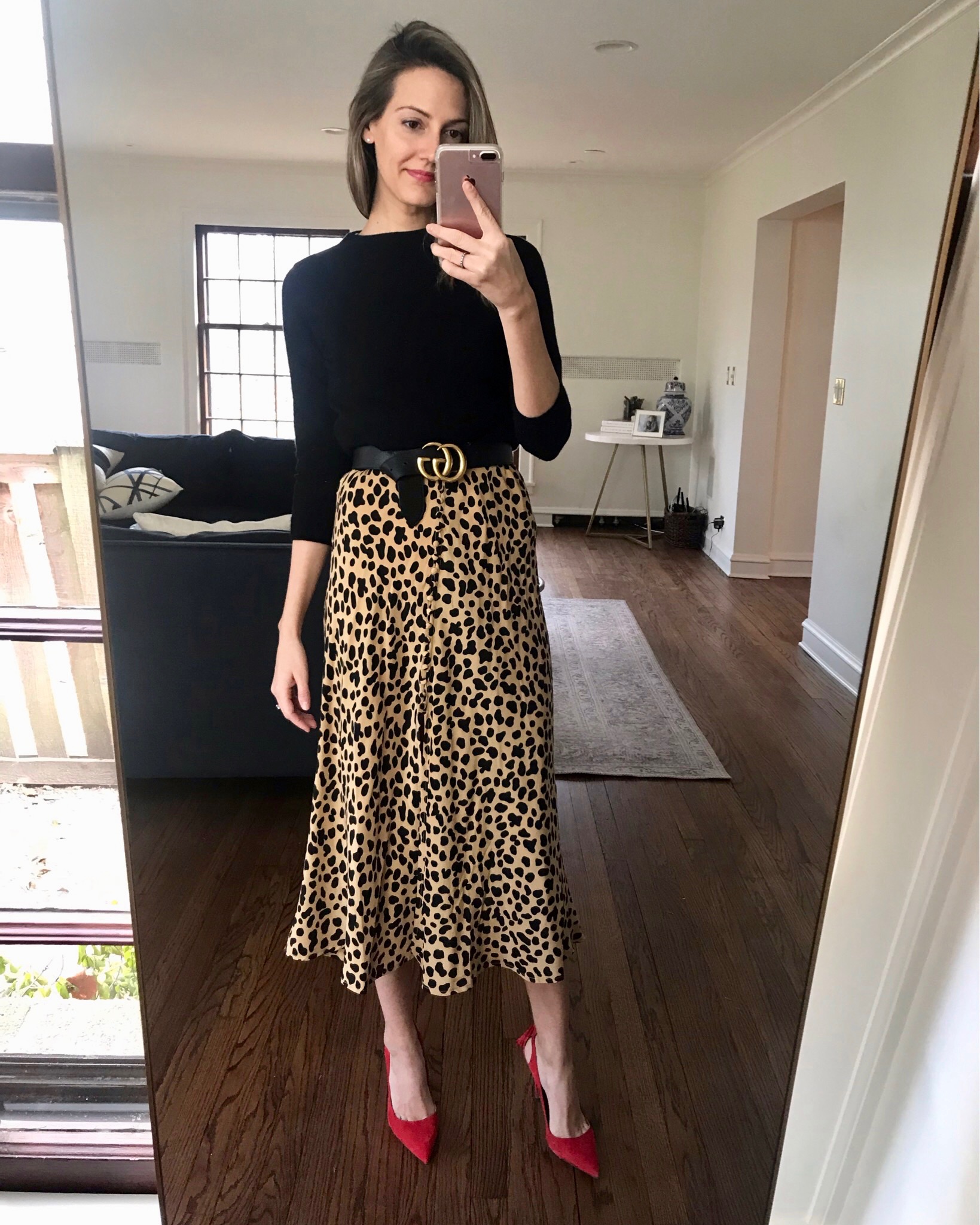 With a Chunky Knit and Sneakers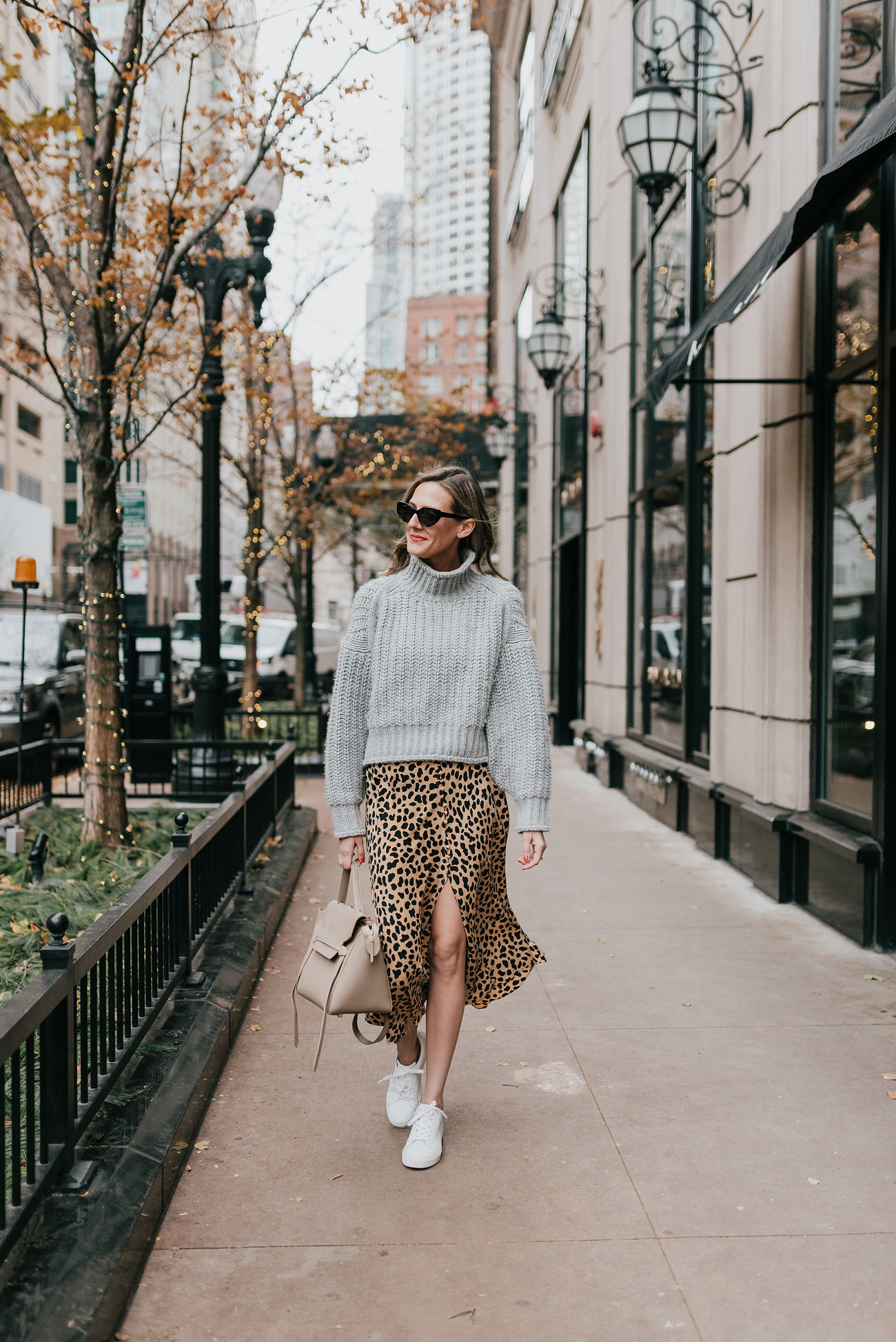 Again, don't kill me, but this is that same RIXO dress as above. But again, I'm styling it as a skirt here. I love the juxtaposition of a chunky, casual knit and sneakers with a ladylike midi, leopard skirt. It's the ultimate mix!
With a Trench Coat & Heels
Take your leopard skirt to work! I added an easy, white, silk blouse, high heels, and my favorite trench (Everlane–under $200 and such a quality coat).