Girl, Put Your Records On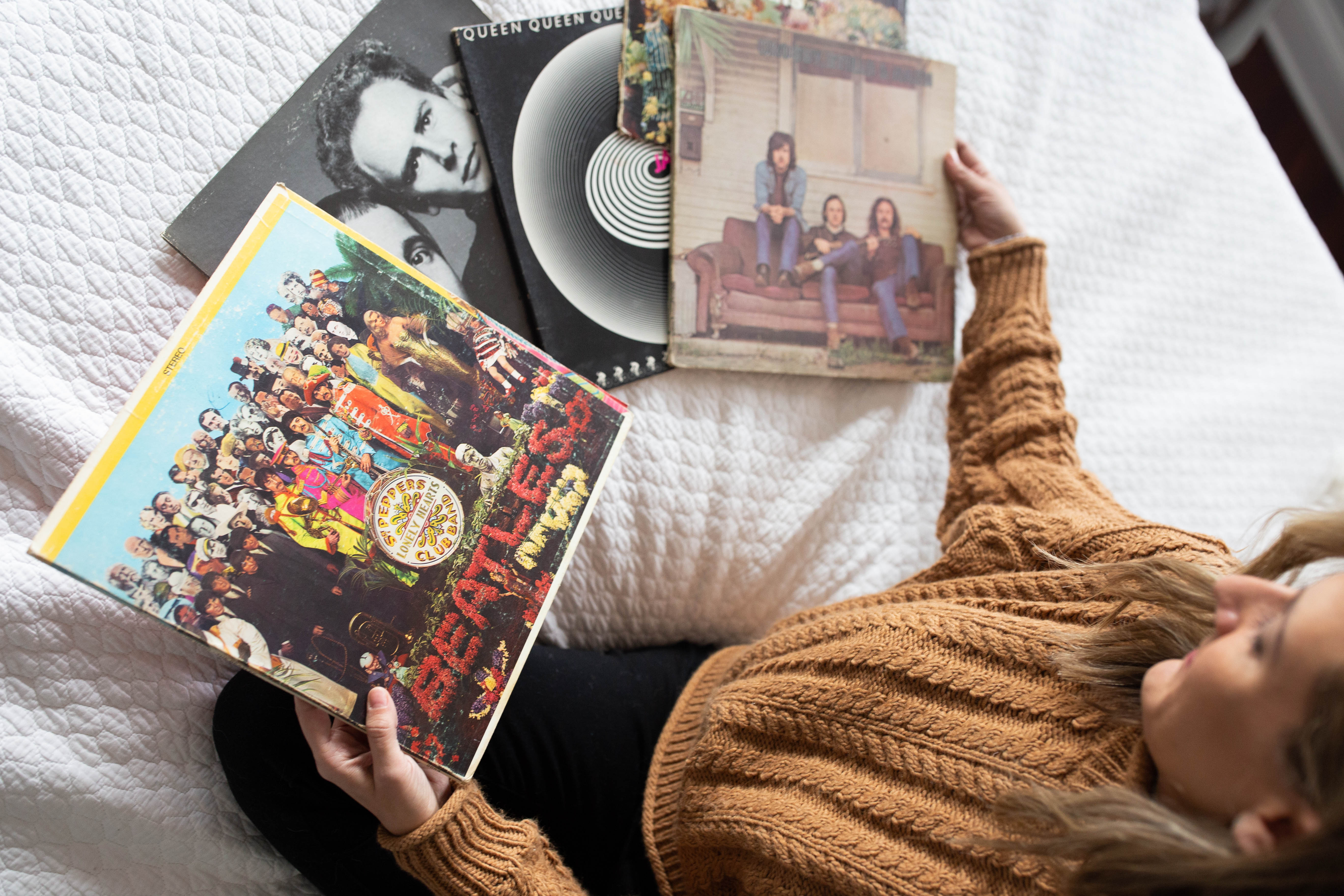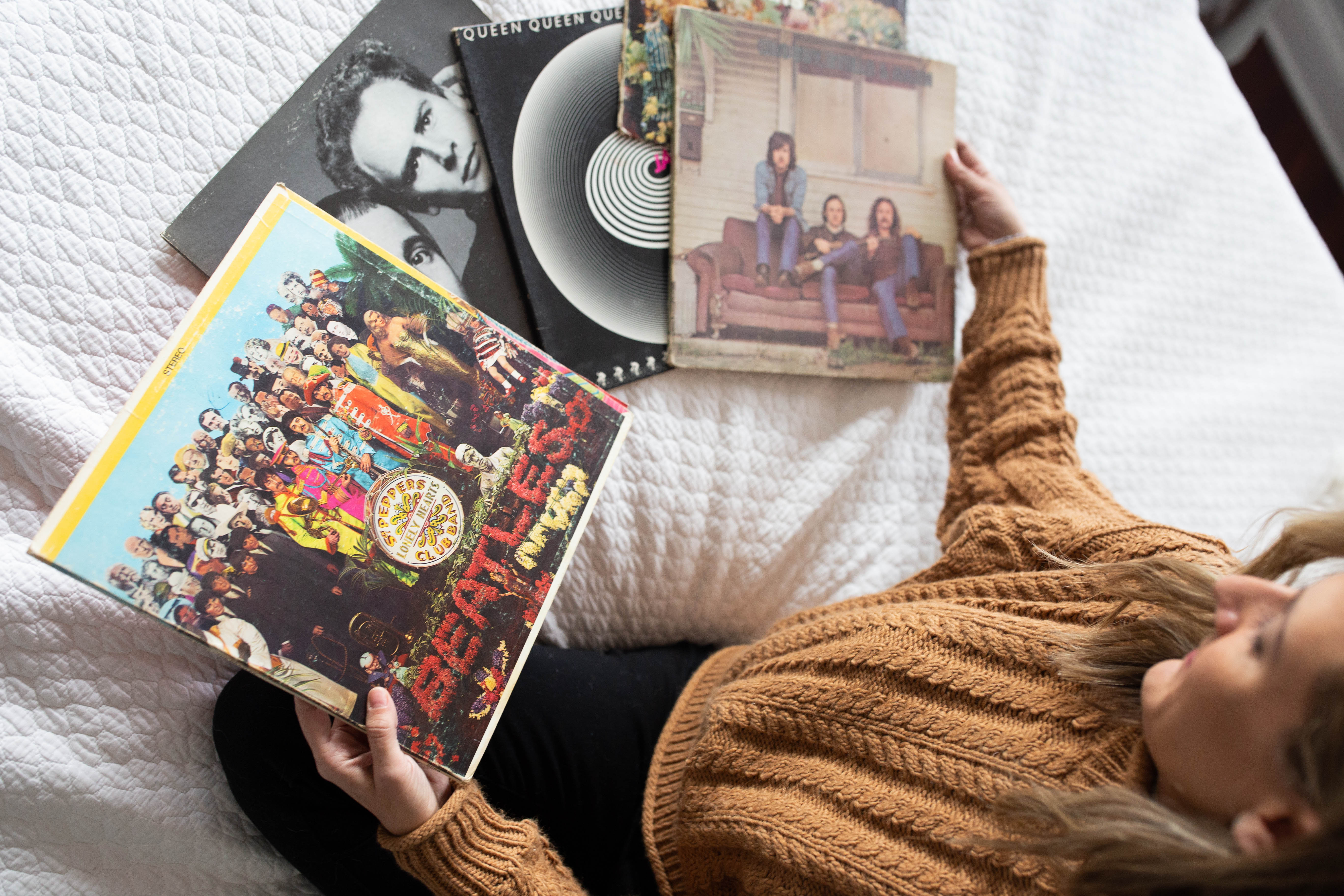 We had a record player growing up that got a LOT of use; I'm pretty sure I knew how to use it at age 5. My parents collected all the classics from their youth: The Beatles, Crosby Stills & Nash, Queen–you know, the GOOD stuff. I also remember listening to children's vinyl records like Mr. Rogers, Sesame Street, and also the aforementioned classic rock while coloring pictures n the coffee table growing up.
I don't talk about music much on the blog (but hopefully you notice the songs on my IG stories) but it's actually incredibly important to me both now, and while I was growing up. Do you ever see my IG stories with my kids? They LOVE to rock out to the classics; Eric and I actually bonded over music when we were younger–lots of fun concerts together, but back then it was early 2000s rock.
My mom and dad passed on their love of the classics onto my siblings and me AND also their record collections (some of these records are from their collection). And guess what: you can find all these classic vinyl records on Walmart now. Have you ever listened to a vinyl record? It's incredibly special–it's velvety and smooth–and it cackles a bit, in the best way (that sounds weird but if you have heard a great song on vinyl, you'll know what I mean). It's pretty awesome that you can snag all your favorite albums AND a record player on Walmart now.
I can't hear a Beatles song without thinking of my dad and those are some really special memories for me (he was a huge John Lennon fan) and music is my big connection to him, even as he's passed on to the other side. Sometimes I like to think that's how we communicate with each other. I listen to these old albums and like to think about where he was in his life when he was listening to these albums on a record player–and that makes me smile.
My Top Five Classic Vinyl Album Picks (all available at Walmart):
The Beatles (1967-1970) – I chose this because it includes all my favorite songs, although Sgt Pepper's Lonely Hearts Club Band is probably my favorite album. (My mom would disagree because she loved the Beatles pop-like beginnings.)
Queen (Greatest Hits) – My kids' favorite song is 'We Will Rock You' but mine is 'Somebody to Love.'
Fleetwood Mac (Rumours) – I can't even pick a favorite song on this album…I'll jam out to any of them. 'Dreams' and 'The Chain' are up there for me, though.
Traveling Wilburys (Vol 1) – Oh God, my parents were obsessed with this album and it rubbed off on all of us kids. My dad used to strum along with the songs on his guitar, too–it really takes me back. It reminds me family vacations and I still love all the songs on this album (notably 'Handle With Care' and 'Last Night').
David Bowie (Legacy) – My parents liked David Bowie but I actually think my siblings and I loved him even more. I think my brother got me into him at a young age and he's an absolute icon to me. This album has all my favorite songs: Life On Mars? and Under Pressure are my favorites but I could listen to this whole album on a loop for the rest of my life.
This list is just the tip of the iceberg but I LOVE music (from classical to 90s pop, but honestly, newer music is my blind spot and I don't know it as much) and will gladly chat with any of you about my favorite musical memories, concerts, anything! Share your favorite albums below.
*Thanks to Walmart for sponsoring this post and for sparking so many great memories!