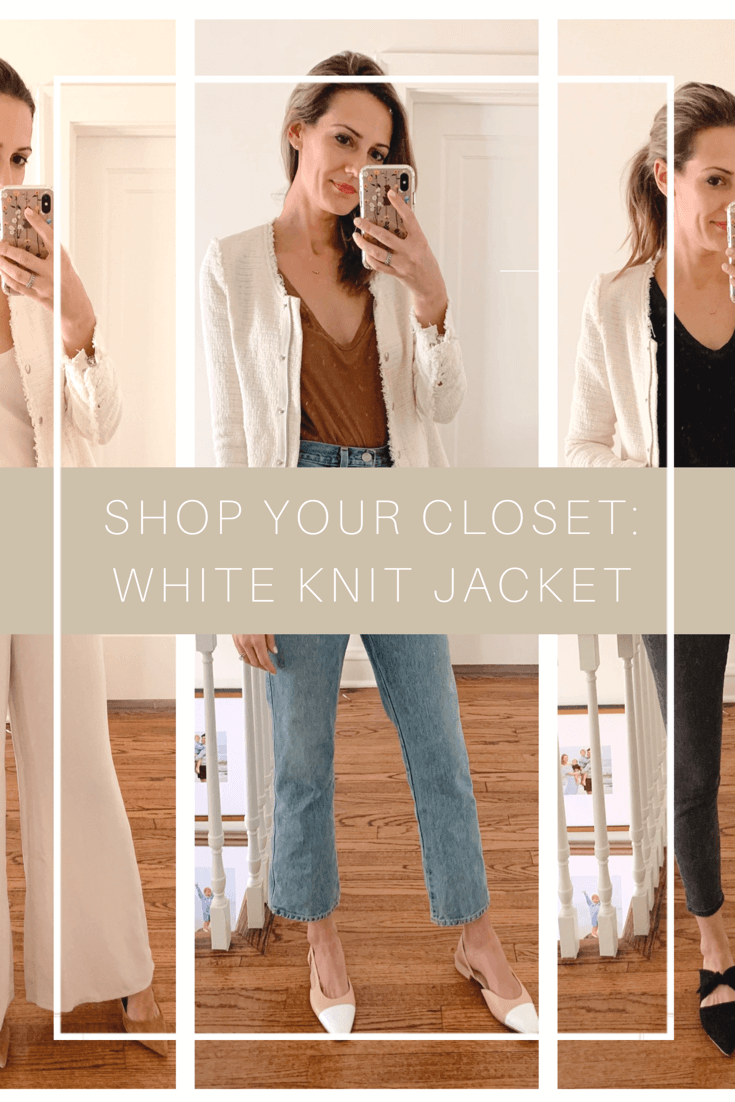 We're back with #shopyourcloset series (and I'll be recording another tomorrow, so stay tuned on IG stories) with a special feature: our One/Third knit jacket.  Yes, it's currently sold out but we DO have a waitlist.  We spoke to our manufacturer and we will be receiving more product the first week of June.  And hopefully we will also have another color by the end of next month (fingers crossed!).  I have been blown away by everyone's reception of the jacket.  I know I love it and have been wearing it like crazy ever since we made the sample (I'm actually wearing the sample–ha) but it's another thing to open it up to the world to see what THEY think.  I have a passion for jackets; I always have, and I attribute it to the fact that they make me feel put together no matter what.  Also, the weather in Chicago is psycho, so jackets are part of your armor.  Any way, I'm so thrilled to be selling more soon--just join the waitlist with your preferred size!  The jacket runs true, but if you find yourself in between sizes, please go up.  I can wear both the XS and S comfortably (I have narrow shoulders, for context).
The reason we designed this piece was because it's so dang wearable.  We wanted something you could wear with a vintage tee but also to the office.  I have been wearing this knit jacket since November and will continue to wear it until the cows come home.  Light jackets are a bit season0less and that's why I love them.  Can't wait to show you what else we have up our sleeve!
PLUS, I wanted to give you some Sephora sale picks.  I am more of a minimalist when it comes to makeup but I looooove trying skincare (you probably have noticed this by now).  It's nothing overwhelming – just a list of what I use on the daily and what I will be buying (only three products, all based on recommendations of friends!).
Here's are five things I wear on the daily and would highly recommend:
Supergoop CC cream – I wear it every day
I switch back and forth between NARS concealer (I wear Vanilla) and RMS Un-Cover Up
Sunday Riley Good Genes (I have repurchased this several times and have always loved it)
Laneige Lip Sleep Mask (Been using every night since November)
Here's what I'm ordering for myself:
Dr. Brandt No Needles Neck Cream
Indie Lee CoQ10 Toner (I want to try after listening to her on Grace's podcast!)
Becca bronzer (in Capri Coast) – I've been using the same bronzer for over five years and want to switch it up!