What You Loved in 2018 (And Will Continue to Love in 2019)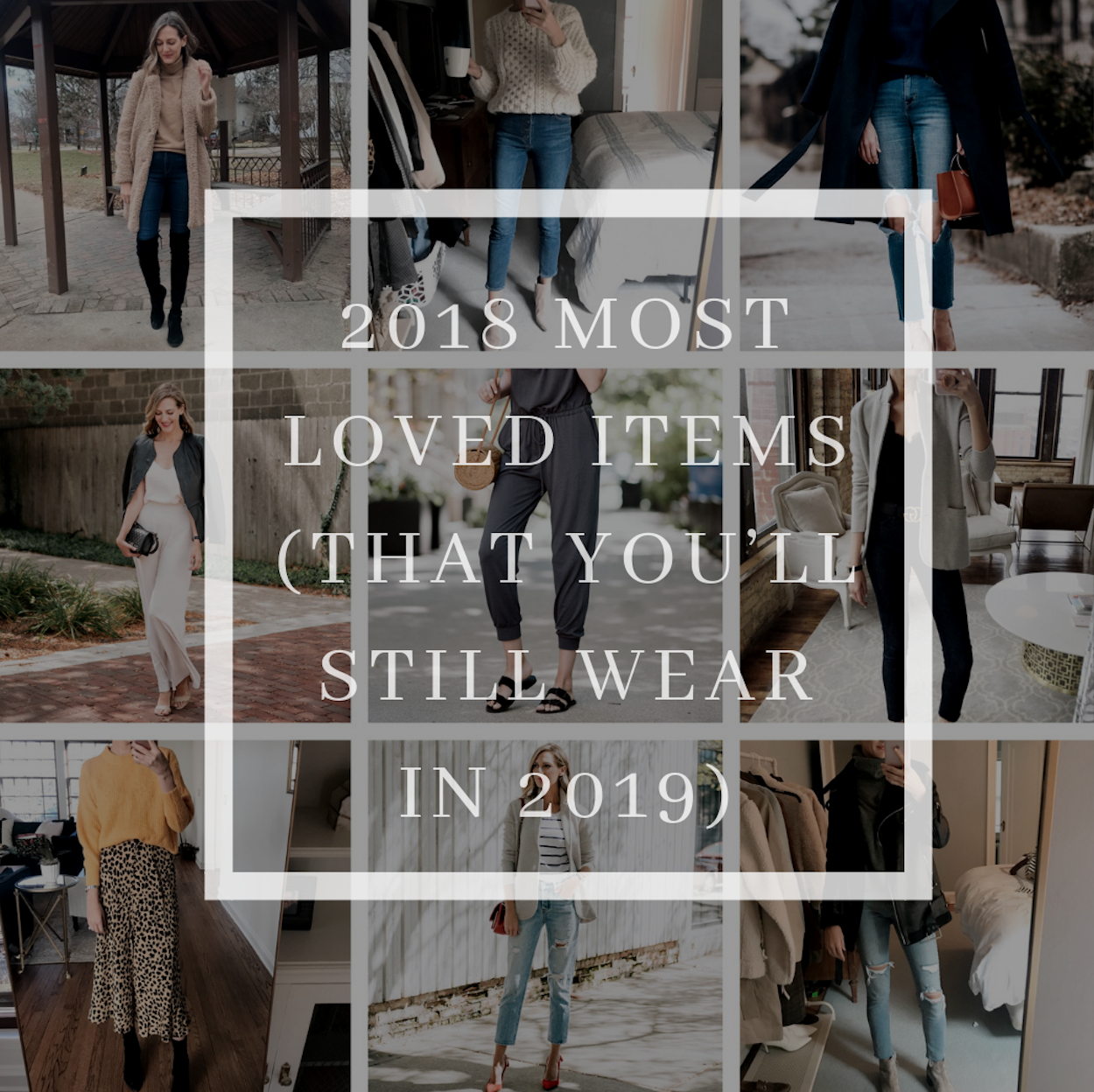 My top items from 2018 are ones that I purchased this year (and some even in 2017) that are STILL available.  They're top items because I constantly wear them (or re-buy in the case of the one essential oil I use).  I deem these items classics and I have no doubt that they will continue to be 2019 staples.  I'm a bit believer in purchasing items that you love and that you can imagine yourself wearing a few different ways.  I know everyone is big into Marie Kondo right now and although I probably have TOO much stuff in my closet, I am a big believer in purchasing items that *spark joy* within me.  That's my problem, though–too many of my clothes *spark joy* – ha!  HOWEVER, it's clear that I believe in my purchases because I constantly re-wear them and ensure they fit well with newer items I purchase.  Check out the items below to see what my readers loved and purchased themselves (…and I only featured items that are still available).
Sweaters
H&M mock neck sweater – you all loved the H&M sweater try-on I did last fall…especially this sweater (which is available STILL in a few colors!)
Line + Dot sweater – Slight mock neck, balloon sleeves – it's a staple of the Line + Dot line now!
Pants
Leith wide-leg pants – One of my top liked photos on Instagram (see in my 'Real Outfit Recap' here)… I was wearing these beloved pants.
Levi's distressed jeans – Naturally.  Under $100, too!
Citizens of Humanity button-fly jeans – Another shocker…I've been living in these jeans all fall.
Tops
Everlane silk cami – I wear this under jackets all the time but you loved when I paired it with the Leith wide leg pants.
Likely wrap top – Such an easy white blouse (and it's on sale!)
Dresses
Joie puff-sleeve dress – This one was an Anniversary Sale special…so good with a leather jacket or tights and booties.
Shoshanna Koko dress – I adore this Shoshanna dress…the fluttered hem makes my heart flutter. (worn here last spring)
Rixo London Katie dress – This may be my favorite dress of 2018; it is SO flattering and I also wear it as a skirt!
Coats/Jackets
Avec Les Filles biker jacket – Such a great Acne-esque jacket (at a even better price point).
J Crew sweater blazer – Another 2017 favorite that I just keep wearing (and J Crew just keeps making it).
MKT Studio teddy coat – My favorite purchase of 2017 that I still wear every chance I get (as you see on instagram and all the time on my blog).
Shoes
Everlane Boss boots – Bought in 2017 and still obsessed (wore them today!)
Everlane buckle sandal – I lived in these all summer (and you can 'choose your own price!')
Jeffrey Campbell Siren bootie – I don't actually own these; these were an items I showed you when you wanted an alternative to my Sol Sana sock booties.  These get awesome reviews, though, and are gorgeous so I see why you loved them!
Misc
Sultra 1″ hair wand – Been proudly using this wand exclusively since 2015 and it's still kicking (bought it at the Nordstrom Anniversary Sale in '15)–and you're all still loving it!
Reformation PJs – So comfy and chic (and eco-friendly)