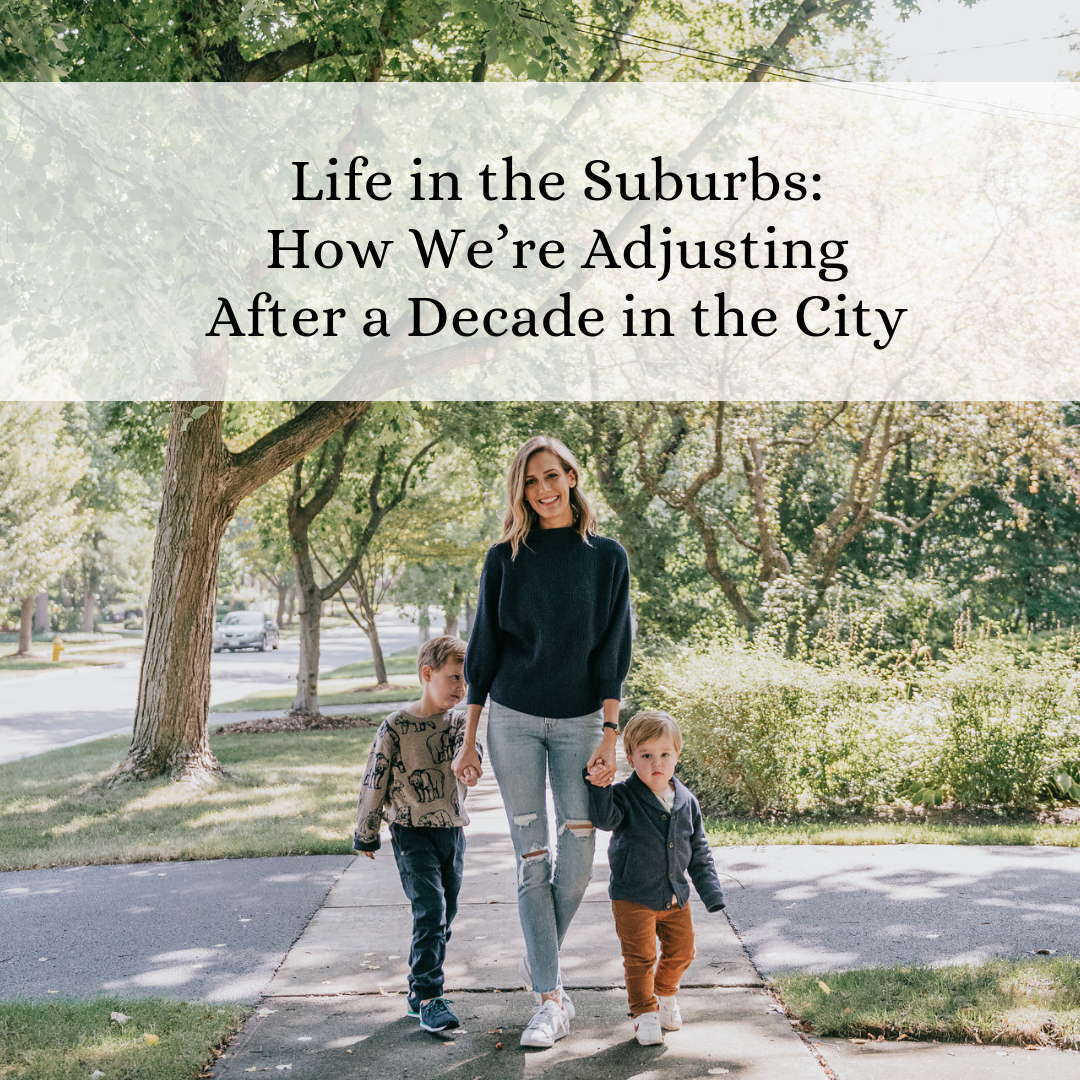 We've been in the suburbs for nine months now and in some ways, it's felt like forever.  In other ways, it's only been a minute and I sometimes want to drive "home" to our condo in Wicker Park when I'm in the city.  I wrote this post about why we left the city here, but it was literal days after our move and hadn't quite sunk in yet.  I was feeling very overwhelmed the first six months after the move and it had to do with the fact that we moved to the suburbs, but I also made a major career change (read about it here), and I was experiencing a bit of culture shock.  So here I am, almost a year later and I've lived to tell the tale.  My synopsis:  I like the suburbs.  I still miss the city.   I miss our old neighborhood.  I don't miss condo living with two big boys.  Lastly, I'm in the city often so I can get my fix that way.   And bonus: I take the car or train to the city which gives me plenty of time to catch up on podcasts (thanks for your recommendations – here!).
What I Love:
The kids are loving it.  The town where we live is just so family-centric and the amount of activities, sports, and events is just endless–even in the winter!  There's a real sense of community; our neighbors are so nice and we've made some friends.  Harry loves school and camp, Teddy loves the libraries and parks, and they're both in their respective elements.
It's easier to DO things (with kids). I forgot that free parking and parking lots existed–guess I had been in the city too long.  Also, I don't get road rage like I did in the city.
SPACE.  Glorious space.  We don't live in a mansion but MAN, does it feel good not to be on top of each other.  No neighbors below us (they'd bang on the ceiling every time our toddler breathed) or having to take the kids out of the car in the alley because our doors barely opened in the garage. We hosted Thanksgiving and Christmas and actually have the space for guests!
What I Don't:
The food.  I knew I would; Chicago has one of the greatest food scenes in the world! So yeah, the suburbs and our five restaurants can't really compare.  BUT, we are pretty good at still making it down to the city for date nights or to visit friends with the kids.  We do have a great coffee shop nearby and we've become regulars–that's been our saving grace because we miss the great coffee shops in the city.
Lack of diversity.  This has probably been my biggest pain point of the move and I'm acknowledging that it sucks.  Even Harry noticed that there weren't people here that looked like his friends in the city (ugh, it's a punch to the gut when your 4 year old notices it).  I, too, grew up in a pretty non-diverse area, but my parents did a great job of exposing me to other cultures; it's on me to do the same and I'm going to make good on it.  Plus, we're we take the kids into the city pretty frequently (I still have family and friends there) so that makes it a little bit easier.
What I'm Excited About:
New friendships. Turns out, making friends as an adult is hard.  It's especially hard when you work from home.  But I've made a few friends up here and so far, so good!
The great schools.  Harry heads to Kindergarten next year (I can't believe it) and I'm excited for him because he really enjoys school and learning.  The school district we're in is pretty progressive (i.e. minimal homework until 4th grade, focusing on the social development of the child first, etc) and I'm really looking forward to joining that community.  And Teddy will go to preschool next year – he will love it!
More renovations: Love this old house but I also like (carefully) tearing some of it apart.  Our master bathroom is DONE (except for shelves, towel bars, etc) and we've moved back into our bedroom.  Next up: the boys' green bath (check out my plans for it here).  But really, the master bath was the only room we changed structurally, but the little updates here and there have been fun!  Just need more money so I can do more to the house (ha).