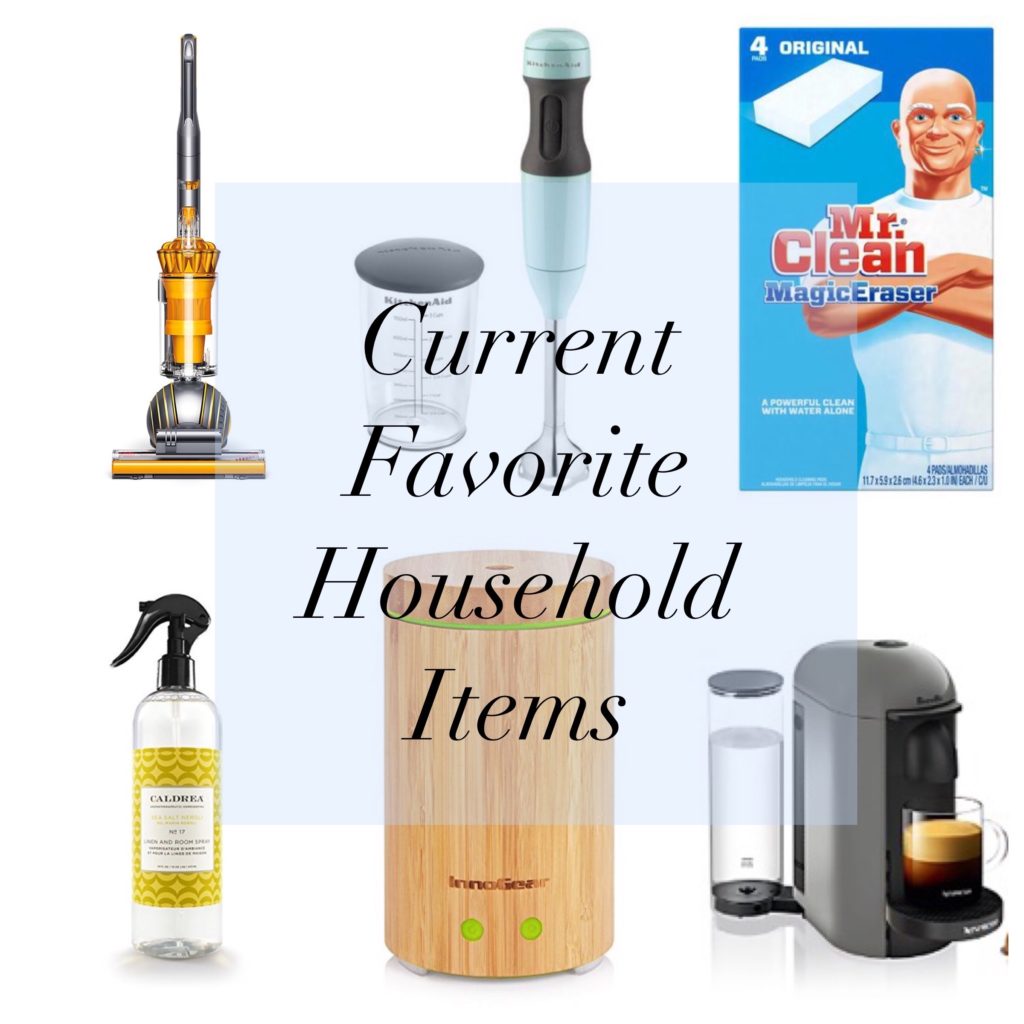 When you move, it can feel like you're hemorrhaging money.  Not only is there a desire to 'start fresh' but there's also a ton of new stuff you just need for the new space.  Now none of these things are essentials by any means but they're my favorite household items.  What's yours?  Am I missing anything?
Nespresso Delonghini Coffee & Espresso Machine (Verturo Plus) – I took a poll when I moved to see what your favorite coffee maker was and overwhemingly, everyone recommended a Nespresso machine.  You're probably wondering why I didn't have a coffee maker before and I did, I just never used it.  But also, at my office we had a coffee bar with $1 coffee so that was part of my routine.  ANd on weekends, Eric and I would love to walk down to the Intelligentsia or Ipensento in the neighborhood so coffee at home was never our thing.  Now that I'm in the suburbs and the cool coffee shops are less than plentiful, I need my coffee at home and I am being totally honest with you here: I can't believe I lived without this Nespresso machine for so long.  The coffee is delicious and SO smooth (note: I'm not a Starbucks fan).  I don't even add a packet of raw sugar to my coffee anymore because the foaminess and milk frother does the trick.  I love this machine!  And yes, I still have a coffee maker for when we have company and I need a pot of coffee but this is all I need for now.
Dyson Multifloor Vacuum – File under: I get the hype.  I have another admission for this category: we have the cheapest most broke-ass vacuum before that I bought off Craigslist in 2009 for $10.  That was all we needed for apartment living because we only had a few rugs – the rest was hardwood flooring!  We now have carpet int eh basement, larger rugs and a carpeted sunroom (and it's lightly colored) and this vacuum is a beast.  It sucks up EVERYTHING and the warranty can't be beat.
Bamboo Oil Diffuser (this is my favorite oil) – I love this diffuser because it's discreet looking and a normal shape. Oh and also, I know nothing about essential oils.  I have only used one (the one I mentioned) because my sister-in-law was diffusing it one day and it smelled glorious.  I've been using this same oil since November and I love it!
Caldrea Linen Spray – I found this brand at Target years ago and haven't been able to find it there since.  I fell in love with their handsoap (smells so good) but they're linen/room spray is amazing.  I spritz it everywhere before company comes (ha) and it actually lasts.  Plus, it's green ingredients so it's not a bunch of nasty toxins that you're spraying in your house.
Mr. Clean Magic Erasers – I'm fully aware that these things are probably toxic to the touch but gosh darnit, they ARE magic.  These things are perfect for eggshell walls–they really help keep your white walls looking fresh.
Orvis dog bed – Jerome is not allowed on the furniture at our house but at our condo, he WAS allowed on one couch (we called it the Biggie couch).  He's pretty bummed about it and tries to sneak on from time to time but he is really loving his new bed from Orvis, so that makes it worth its weight in gold.
Immersion blender – Sometimes I'm just too lazy to get out the food processor or Vitamix.  I use my immersion blender a lot more than I thought I would – its so perfect for soups (which I make a lot in the wintertime) and even salad dressings.
Hinckley Springs water filter system – My friends and I like to joke that I have a very discerning taste when it comes to water.  I am personally not a fan of Chicago tap water but I loved our tap water growing up in Ohio (Also I think NYC has delicious tap water).  It's so wasteful buying water bottles and I could guzzle a whole Britta pitcher myself so we invested in the water filtration system.  Hinckley Springs picks up our water jugs (and reuses them) and we receive a delivery every two weeks.  (And the water tastes amazing!)