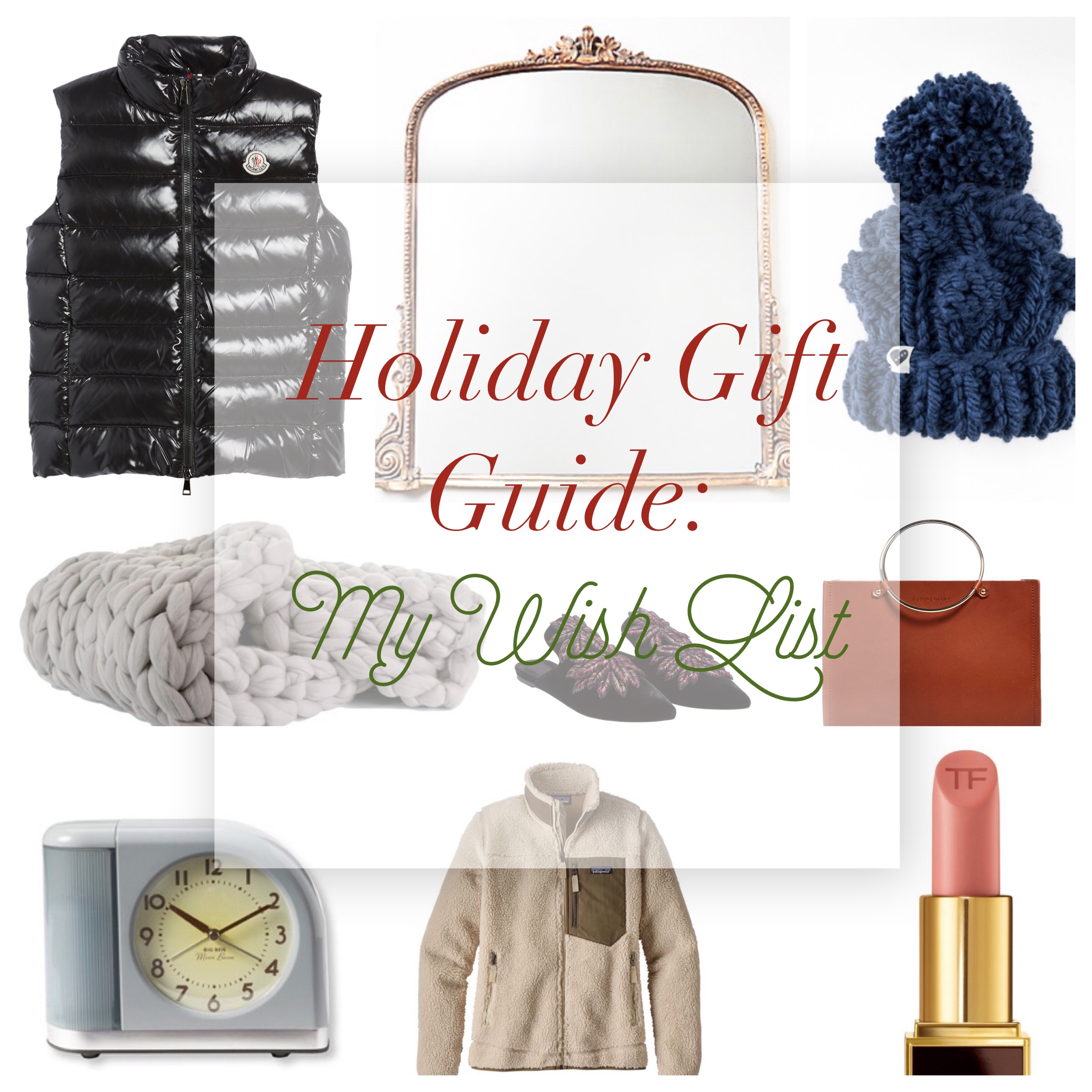 People often ask me what's on my wish list, especially around the holidays, so if you're looking to give someone a few ideas–I can help!  Check out my 'luxury' gift guide below and why I am asking for each item below.
Future Glory Co bag – unexpected details and a digestable price point.
Moncler vest – My long, wool coat quota has been filled, but I don't have a vest yet…
Anthropologie mirror – No, we haven't moved yet–we haven't even bought a house.  And while I'm excited about renovations and new decor, I'm dreading all the expenses.  So, who wants to gift me this?
Chunky knit throw – Yeah, they're everywhere.  It doesn't mean I don't want to snuggle up with one!
Sanayi313 mules – The holidays are about fun, unexpected surprises and these mules are just that.  I never got aboard the Gucci mule train but I think these are SO fun.
Patagonia fleece – I know I said no more jackets but this doesn't count because it's sporty.  It reminds me of my youth!
Tom Ford matte lipstick – Let's be real…I just don't want to pay for this myself (I want "First Time" – it's supposed to look good on everyone).
Mums Handmade hat – How fluffy and kitschy is this hat?!  I love it.
LL Bean 'Moonbeam' clock – This clock is so awesomely retro and would great on any nightstand – plus it will charge your iPhone.
Check out my Gifts Under $35, Gifts for Him and Gifts for the Kitchen here.
And of course, please remember to give back this holiday season.  Toy donation boxes are everywhere and also you can easily donate canned goods and clothing to shelters.  It's easy to get caught up in the frenzy of the holidays but at the end of the day, it's important to remember there are those who have nothing and that you can make a difference.  (I have to remind myself of that, too!) . If you can make the time, it's also great at your local shelter – they always need help in the kitchen as well as serving meals.