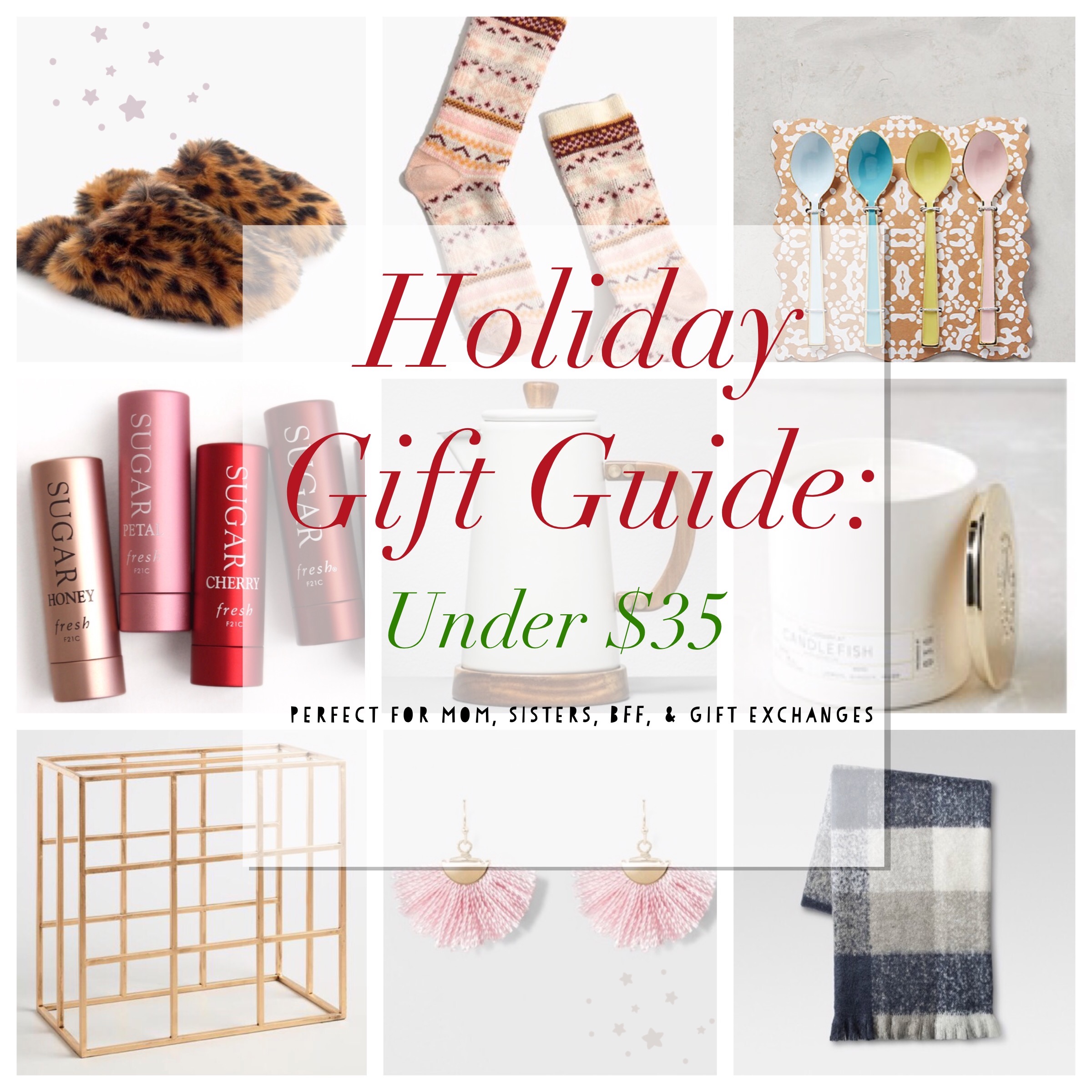 I was just complaining on instagram about how holiday + Christmas decorations were going up way too early.  And while I still think that, it's the prime time to buy presents.  Although I'm not a great planner, I do like to buy gifts well ahead of time so I can enjoy the holidays, well, closer to the actual holiday, rather than spend all that time online or in the store.  So over the next few weeks I'll be sharing some gift guides.  I'm not here to inundate but rather highly curate some great gifts that I would personally love to give AND receive (I may be showing my ripe old age of 32 right now when you see that socks are on the list, but hear me out).
The first series is a gift guide for the ladies in your life and all gifts are under $35.  If you're like me you probably have a few gift exchanges or maybe even a white elephant (see my guide last year – still relevant!) along with a desire to buy something for your mom, sisters and best friend.  It can be done–there are so many great gifts at a lower price point.
Earrings – $12 – My secret is out.  Have you ever seen SugarFix BaubleBar's jewelry line at Target? . They're so cute, affordable AND budget-friendly.  These earrings look just like this pair at a third of the price!
cocoa pot – $34 – I haven't seen Joanna Gaines line at Target in the flesh but from what's online, I'm smitten.  I try not to go overboard with trinkets but this cocoa pot would be a great kitchen item and it's great for serving coffee post-dinner, as well.
slippers – $30 – Ah, the quintessential holiday gift–but for good reason.  I wear my slippers every single day when I get home–they're a must if you have hardwood floors.
wine rack – $35 – Chances are, your friends won't have any issue filling this rack right up.  I love this rack because it's so much chicer than the wrought iron ones that were everywhere in the early 2000s.  I would also stick Pellogrino bottles in there!
blanket – $24 – Blankets are the perfect gift.  This one from Target is such a great price and the color scheme isn't too holiday-esque do you won't have a problem cozying up to it all year round.
lip treatment – $24 – I would never turn down a Sugar lip treatment.  It's stupid expensive but worth every cent.  Every time I use it, my lips feel like they're at a spa, but I hate buying it for myself.
socks – $13 – I love receiving socks and realize that makes me sound so old.  I remember how bummed out I would get as a kid when I received socks and underwear in my stocking but gosh darnit, it's a solid gift!  Plus, it's expected that I lose one sock every time I do my laundry, so I never can have enough pairs.
teaspoons – $32 – Kitchen items are the best when you're an adult.  I could do just a gift guide on cute kitchen trinkets, if you're interested (tell me!).  But I love the sentiment that comes with them each time I pull something out–like, aww, I remember when so and so gave me this for our wedding.
candle -$28 – I'm a diehard Diptyque candle fan and will gladly receive one any day of the week (Feu du Bois, hello?!) but I recently went to event in Charleston where they had a Candlefish booth and my oh my are they delicious smelling – and for half the price of Diptyque!  Try them out – I have been burning the floral fragrance in my house.
Until the next gift guide….