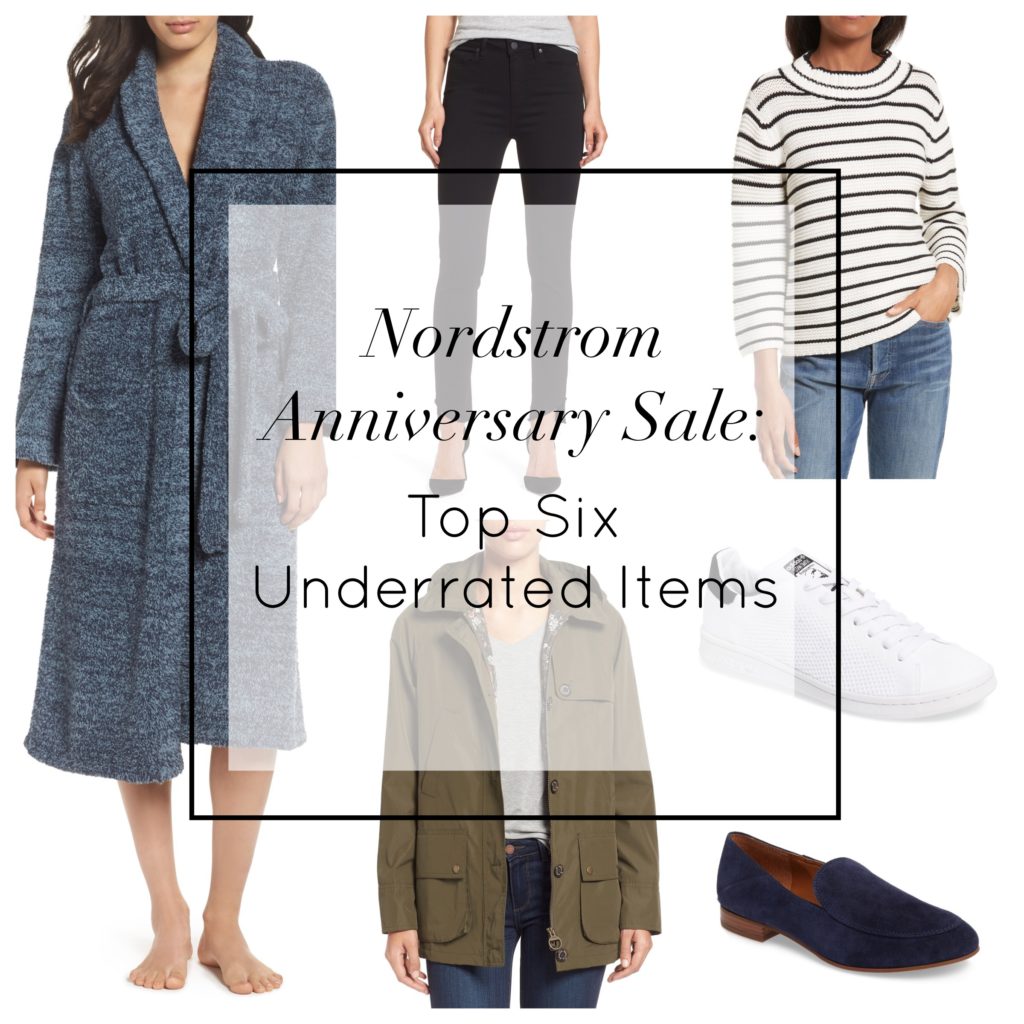 Happy Public Access of the Nordstrom Anniversary Sale!  Check out my "just the basics" post, office-friendly wear post (+ under $100 picks), as well as my baby essentials guide for the sale.
I love a cheap thrill just as much as the next gal, but when I buy something, I typically am looking for quality and longevity and the Nordstrom Anniversary Sale is no exception.  I don't want a bunch of sweaters that look the same because I know I'll get sick of them.  What I don't get sick of is quality and craftsmanship – and that's why you see me re-wear so much stuff on my blog.  I'm also going to try some stuff on soon for Public Sale so stay tuned into my instagram stories (I'm also giving away $1K to Nordstrom on instaram so check it out!)
Top Six Underrated Nordstrom Anniversary Sale Picks
La Vie striped sweater – I'm shocked I haven't seen this more in roundups.  I love stripes and I love Rebecca Taylor's La Vie line…AND I love how it's almost a turtleneck. This is the ultimate transition sweater.
Barbour rain jacket – Barbour is a legit line and when they say the jacket is waterproof, it means you can swim in it.  Barbour's coats are so well-made and the silhouettes are classic so when they go on sale, jump on it!  I wear my husband's Barbour jacket just as much as he does (and he always tells me to get my own, so maybe I will!).
Adidas Stan Smith (knit) – how have I not seen these until now?!  KNIT Stan Smith's – they're amazing.  Now my Stan Smith shoes have seen better days…they're looking more like a pair of Golden Goose sneaks and I don't like it.  I tried the magic eraser but it made them look dirtier, too.  So, I think I'm going for these – because I need fresh, white sneaks.
Franco Sarto loafers – Ok, these are the best Everlane dupes I've seen and they're SUEDE.  Plus, they're under $100, so I don't even have to build these up anymore.
Paige Hoxton jeans – First of all, black jeans are going to be big for fall (apparently…I didn't know they ever went away?).  Second, these are a fun spin on your current black jeans that are collecting dust in your closet.   The uneven hem is fresh and Paige does a mean (and flattering) high rise.  I have these jeans and they do your body good.  They can run a little small (due to their super high rise) so if you want a little breathing room, size up.  Have you ever regretted buying a great pair of jeans (on sale)?  Nope.
Barefoot Dreams robe – As I sit here typing, I am wearing this exact robe.  Everyone raves about the sweater (and yes, it's amazing) but the robe? It's the original gangster.  I wear this every single night around the house and I'm not ashamed.  I am also a robe junkie and this one is my favorite.  If you don't like it, I think I will personally refund you your money (and then give it away as a gift, because it's also my go-to present).