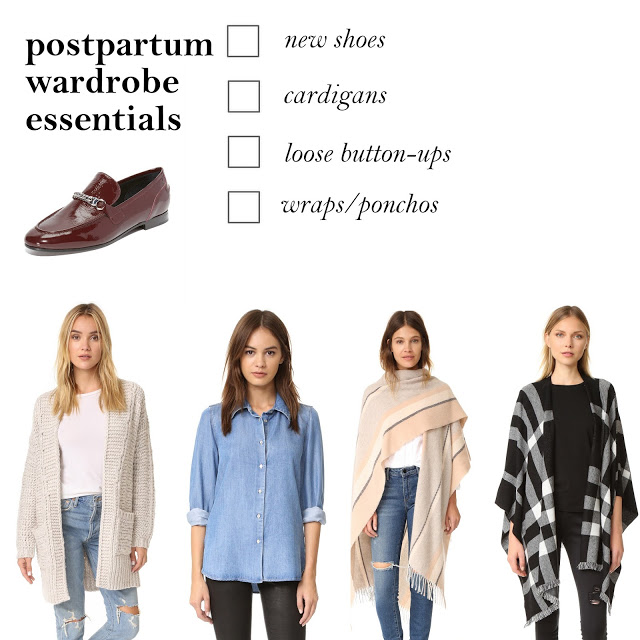 No matter how good you look pre-pregnancy, having a kid changes your body. Carrying a baby can do crazy things to your anatomy (hello linea negra and wider hips) and once you have the baby, there is no guarantee that your body will ever be the same. Now that I've had two kids, I'm hoping I can provide a little insight into what worked for me and my postpartum wardrobe because it's definitely harder than dressing a bump. My body isn't where I want it to be, yet I'm trying to give myself a little grace and be realistic about getting it back. The best advice I ever heard was: it took you nine months to gain the weight, give yourself a good amount of time to lose it.


Shoes – hey, they still fit (or maybe you went up a size); either way, there's always shoes to give your wardrobe a literal kick. I have my eye on loafers this season (shop loafers HERE and I want these).
Cardigans – the looser the better for me. Plus, they make nursing super easy (shop cardigans HERE)
Loose button-downs -again, easy access but Ialso like to avoid anything form fitting. Plus, button-downs make me feel more pulled together than I am (shop oversized shirts HERE).
Wraps/ponchos – are you seeing a theme here? (shop ponchos HERE and shop wraps HERE)
A few other tips: don't give away your maternity jeans quite yet (shop maternity jeans HERE)–I am four weeks postpartum and I still wear mine. And if you breastfeed, nursing tanks and bras are essential (shop nursing bras HERE). Lastly, your hair will fall out a few months after the baby is born (I'm sorry–blame hormones); the severity is different by the individual, but some new hats might help (shop beanies HERE).
And what better time to shop than the Shopbop F&F sale! Use code MAINEVENT16 for 25-30% off.