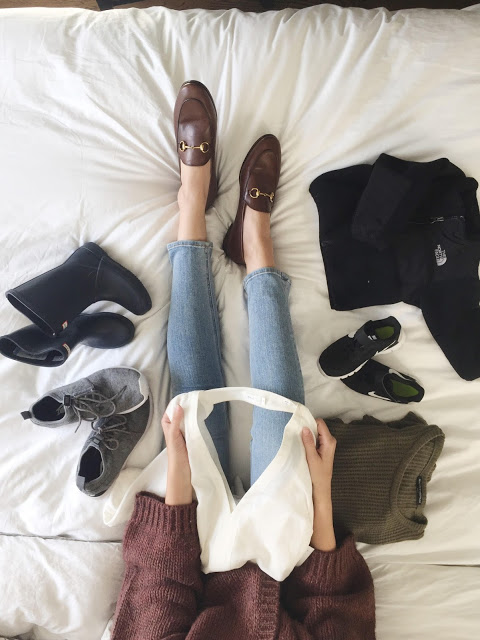 surrounded by my loot (ALC top, Brandy Melville sweater that was $5, various kids stuff, Gucci loafers)
I'm going to let you in on a little secret: there's a new store called Nordstrom Rack Last Chance in the Chicago suburb of Lombard. There are only two in the country and I had the opportunity to go before the store officially opened last week; I have to tell you–I had a great time. I'm an avid Nordstrom shopper, but if you're like me and love the thrill of a sale, you will LOVE Nordstrom Last Chance; there were so many items by my favorite brands there (think ALC, Moncler, Jimmy Choo–even Saint Laurent!), I couldn't get over all the deals to be had. Here is an example of what I walked away with: $8 Hunter boots for Harry (see the photos above and below–they're navy and in perfect condition), a $10 baby North Face fleece for Teddy and my favorite purchase–$100 Gucci loafers (yes, the pair that's currently in stores). My sister-in-law tagged along with me and was in awe of all the awesome stuff at ridiculously low prices. I'd recommend making a day of it; there's tons of great stuff to sift through and I personally wish I would've spent more time there. All sales are final at Nordstrom Last Chance, so make sure you inspect everything closely and try it on for size, as there are no returns. If you follow me on snapchat (seeannajane) or instagram stories (@seeannajane), hopefully you caught some of my trip last week. Be sure to catch up with me there!
Nordstrom Rack Last Chance is open for business now! (The grand opening was October 20, 2016.) The address is: 100 Yorktown Shopping Center, Lombard, IL.
*Thanks to Nordstrom Rack Last Chance for partnering with this post!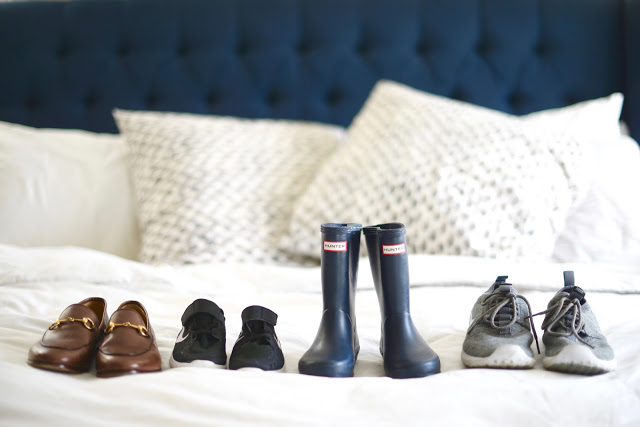 Gucci loafers, toddler Nike, toddler Hunter boots, Nike flyknit shoes